This month I participated in a baking challenge created by Aimée of Food, Je t'Aimée called Monthly Miettes. It wasn't just any challenge though; it involved making something out of the beautifully designed and scalloped pages of Miette by Meg Ray. I'd been eyeing this book for a while and thought it was a sign to finally buy it. What's especially cool about Monthly Miettes is that Aimée wrote to Meg about her idea and she replied, totally supporting the challenge!
I love Meg's story on what inspired her to create Miette, which has become such a signature bakery in San Francisco and beyond. I'm fortunate to live a couple of hours away from her shops in the Bay Area, and even luckier to have visited both locations. They are pure eye candy and offer satisfying treats for those with a sweet tooth.
Aimée chose the Tomboy Cake for this month's Monthly Miette challenge. It graces the cover of the book, setting the tone for the delights to be found inside (really!). Why is it called a Tomboy? Meg says, "This cake has a gamine quality, a little rough around the edges—a bit of a tomboy with a little rose on top." It's a 6" 3-layer double chocolate cake with raspberry buttercream frosting. In other words, deadly for your diet. I promised myself to abstain from baking for at least a week after making this cake. The buttercream alone is kryptonite.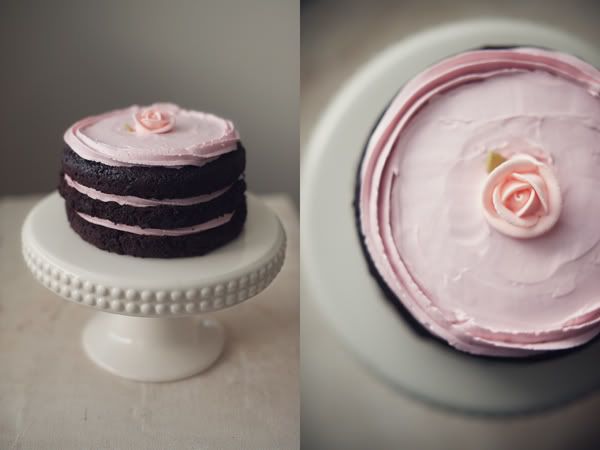 I thought this was a semi-involved recipe with a couple techniques that seemed time-consuming, but necessary. One of the reasons I joined was to be challenged, and indeed I was. I consider myself slightly above novice when it comes to baking skills and I knew after reading through the recipe I'd need to split up the work over two days. It's entirely possible to make it in one day though. If there's anything I'd take away from the experience it is to be prepared (mise en place is important here) and to read the recipe thoroughly, several times even, before you begin.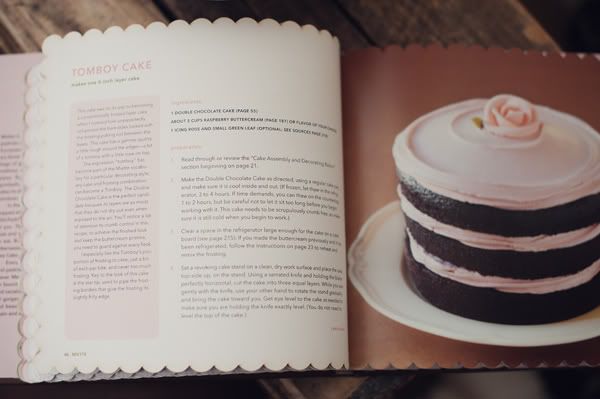 The results were worth it. Mine didn't come out looking perfect or exactly like the picture on the cover (think edges that stuck to the pan, lopsided stacking, etc...) but I didn't mind; its dark layers contrast with the pale pink frosting, making it such a photogenic and striking cake even with the imperfections. It's rich, moist, and chocolately with just the right amount of sweet buttercream frosting.
I know I'm looking forward to the next Monthly Miette (hope to see some of you there); thanks so much, Aimée and Meg.
(pssst! you can find the recipe online here :)