Last week we were in exploration mode (happens when we have family visit) and drove to a few never-before-seen places in the local area. Thus far, I have visited 3 (Carmel, San Juan Bautista) out of 21 missions in California. Not impressive when compared to my mother-in-law's record of 13, and she doesn't even live in CA. Of the 3, the mission in Santa Cruz was the smallest.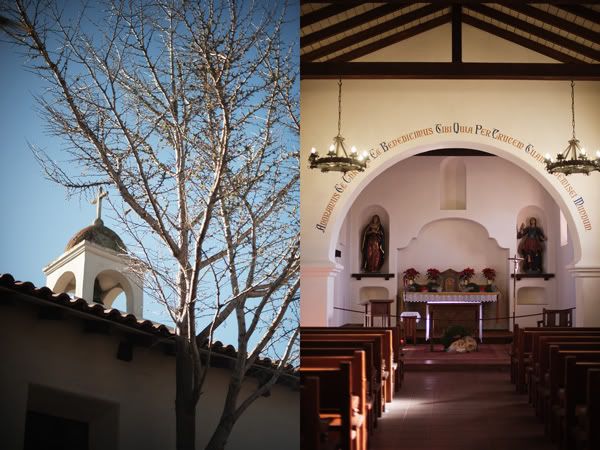 I thought the little figures in the paper mache chapel were adorable. This replica of the mission chapel was made by a 4th-grader. I envy the kid's skills.
Old Fisherman's Wharf. I didn't know this place existed until last week though I always pass it going into Pacific Grove. Even my mother-in-law, who has visited the Monterey Bay area countless times, missed this spot. It's touristy like Cannery Row right down the road but somehow a bit more charming. The main thoroughfare is lined with gift shops, restaurants (an unbelievable amount of them), and odds-and-ends, like places to book whale-watching or fishing tours.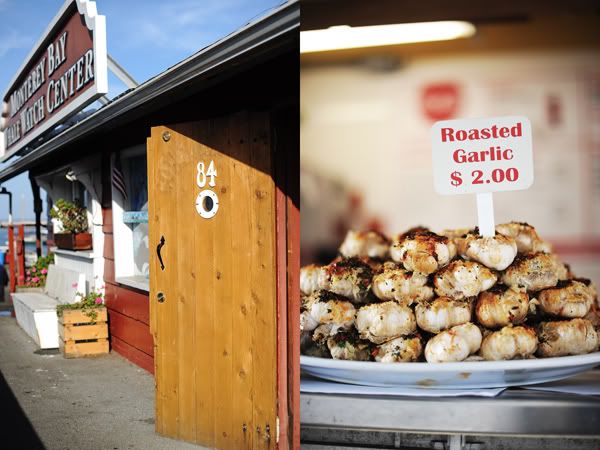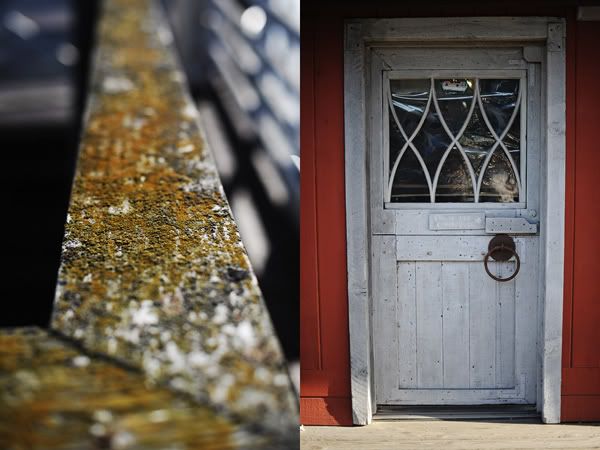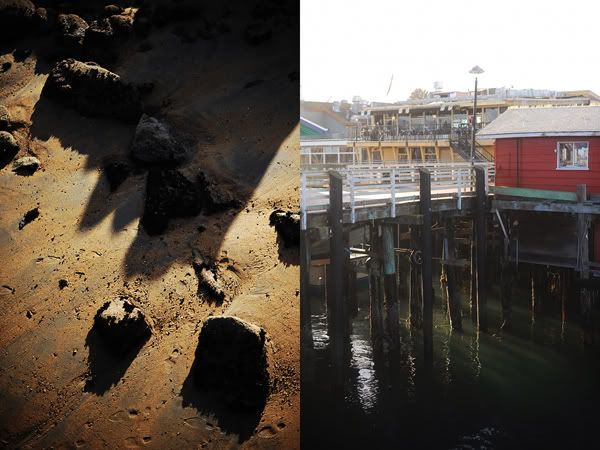 We ate a lot of clam chowder last week. It's kind of become a tradition to order a cup of chowder at any new restaurant we try out and given where I live, it's hard not to find a good cup of chowder. At the wharf, restaurants hand out samples of warm soup to passersby, every place claiming to have the #1 chowder. However if I were to judge them, it'd be difficult to decide which was the best.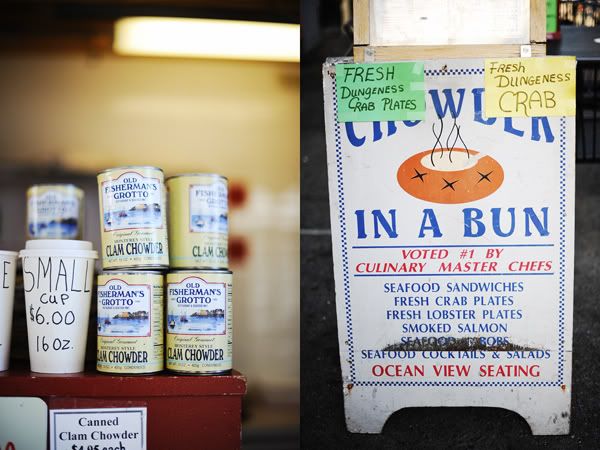 You'd think I'd be sick of chowder but no, I went ahead and made my own last night. A hollowed out rosemary and olive oil bread served as the vessel for my soup, with the insides of the loaf transformed into pan-toasted croutons.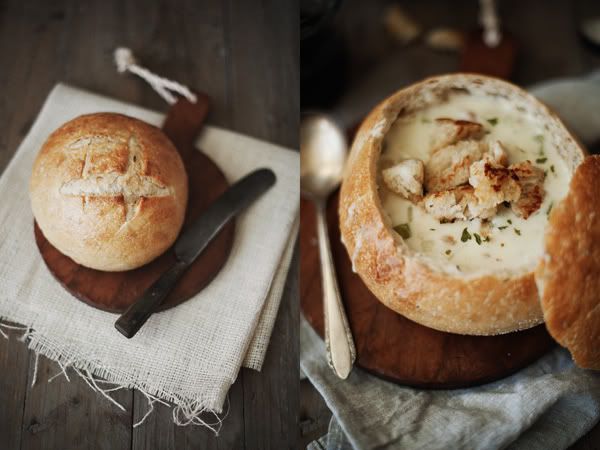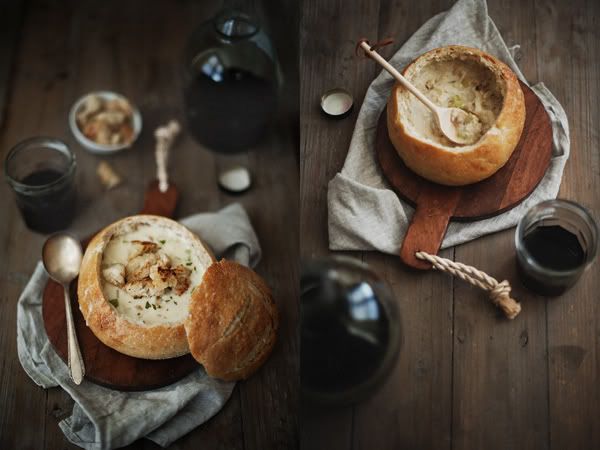 New England Clam Chowder recipe adapted from Dave Lieberman. There are a ton of recipes out there that use fresh clams (such as Ina Garten's East Hampton Clam Chowder), I simply went for easy and quick yet still hearty and delicious.
New England Clam Chowder
makes about 4 servings
Ingredients
2 tablespoons unsalted butter
1 medium onion, finely diced
2 celery stalks, trimmed, quartered lengthwise, then sliced into 1/4-inch pieces
3 tablespoons all-purpose flour
2 cups chicken stock
2 (10 ounce) cans chopped clams in juice
1 cup heavy cream
2 bay leaves
1 lb Idaho potatoes, cut into 1/2-inch cubes
salt and freshly ground pepper
Pan toasted croutons
2 to 3 tablespoons unsalted butter
insides of a round loaf of bread, cubed into 1-inch pieces
salt and freshly ground pepper
Directions
1. Heat the butter in a large pot over medium-high heat.
2. Add the onion and celery and saute until softened, mixing often.
3. Stir in the flour, distributing evenly.
4. Add the stock, juice from 2 cans of chopped clams (reserve the clams), cream, bay leaves, and potatoes. Stir to combine.
5. Bring to a simmer, stirring consistently. The soup will thicken.
6. Reduce the heat to medium-low and cook 20 minutes, stirring often, until potatoes are tender.
7. Add clams and season to taste with salt and pepper. Cook until clams are just firm, about 2 minutes.
8. Carefully cut the top off of a round loaf of bread (I used Rosemary and Olive Oil from Whole Foods). With a knife, hollow out the inside of the bread, leaving about 2 inches on the sides and bottom. Cut the bread into 1-inch cubes and pan toast (directions below).
9. Ladle hot soup into hollowed-out bread bowl. Top with croutons and parsley.
for croutons
1. Melt the butter in a large skillet and toss the bread cubes until browned and toasted, about 3 to 4 minutes. Season with salt and pepper.
note: After eating the soup and scraping the inside of the bowl, I cut up (more like tore off chunks with my hands) the bowl and top and made more croutons for leftover soup. They can also be used in salads or to munch on (great snack for the kiddos).