In my humble opinion, nothing brings more holiday cheer than giving, and receiving, homemade cookies. In our technology-driven/obsessed society, it's refreshing to still get packages the old-fashioned way -- by post. Especially when those packages contain sweet goodies and perhaps a handwritten note from the sender.
The Great Food Blogger Cookie Swap, the brainchild of Lindsay from Love and Olive Oil and Julie from The Little Kitchen, offered an opportunity for food bloggers everywhere to connect in a meaningful way. Sign me up.
The premise was simple: bake and mail a dozen cookies each to 3 randomly selected food bloggers, receive 1 dozen cookies each from 3 different food bloggers in return. By the end of it all, the 625 bloggers who agreed to participate would, by virtue of the swap, discover new food blogs and hopefully make lasting online connections all while having the pleasure of biting into lovingly made, scrumptious cookies. The suspensefully fun part of the swap was not knowing what treats you were going to receive in the mail, or from whom.
I'd already toyed with the idea of making linzer cookies after seeing them all perfectly done in the latest issue of Martha Stewart Living. I made a practice batch early on to make sure it was doable and that the cookies came out tasty and swap-worthy.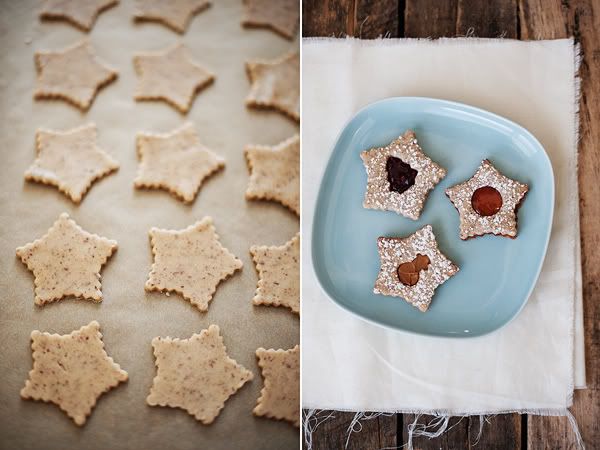 Wilton makes a great holiday-themed Star Linzer Cutter set but you can use any cookie cutter as long as you also have a smaller cutter for the center where the filling peeks out.
Inspired by the traditional classic, the linzer torte (named after the city of Linz, Austria), linzer cookies typically marry flavors that are fruity (such as different varieties of berry jam, plum butter, etc.) and nutty (ground hazelnut, almond, even walnuts).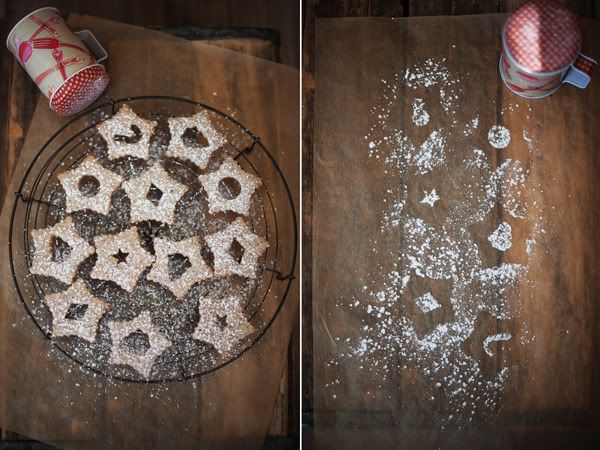 I played a bit by using a seasonal spread I bought at Trader Joe's called Cookie Butter (on the label: "...reminiscent of gingerbread and made of crushed biscuits") -- similar to Biscoff, I'm told. On the rest of the cookies I used not-so-common quince jelly from Happy Girl Kitchen, and good ol' Bonne Maman raspberry preserves (found at Whole Foods).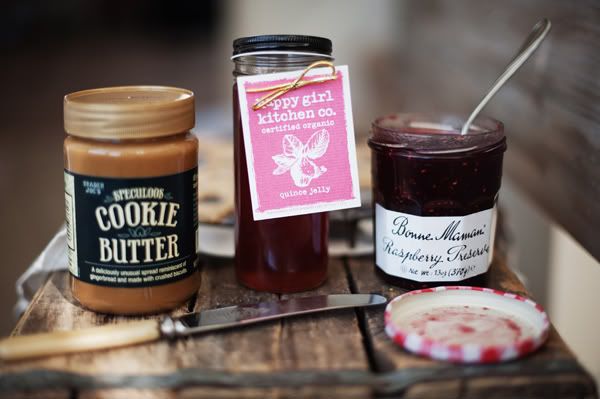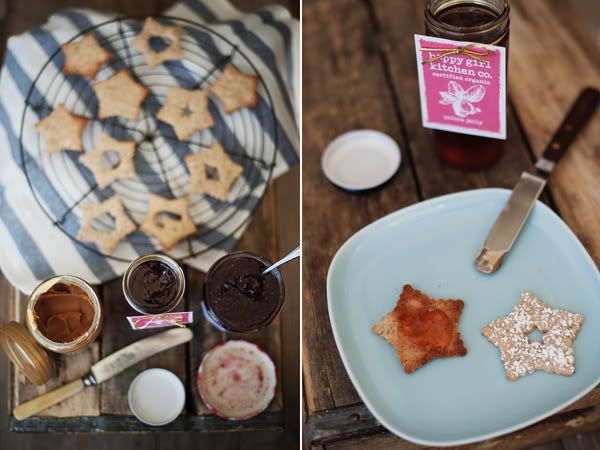 Took a bit of willpower not to lick the fillings from the knives or jars...
Packaged and ready to go to my matches: Pam, Gretchen, and Steff.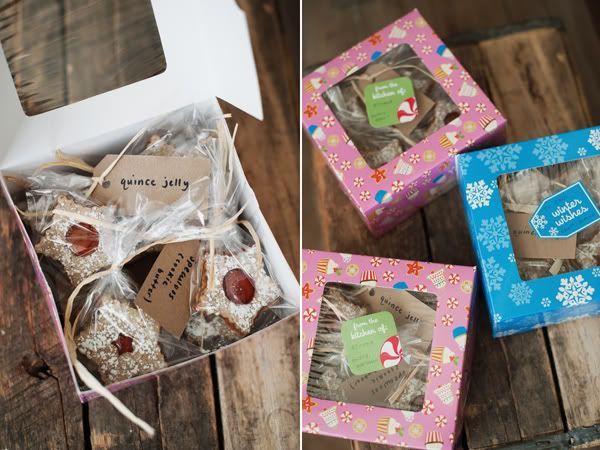 I'm already looking forward to the Great Food Blogger Cookie Swap 2012. If you're interested in participating next year, subscribe to receive notifications here. And don't forget to check Love and Olive Oil this Thursday for what's promised to be a huge round-up of bloggers and recipes (ideas galore for your own baking adventures) that made the Great Food Blogger Cookie Swap such a success.
Hazelnut Linzer Cookies
makes about 5 dozen filled cookies
(adapted from King Arthur Flour)
Ingredients
1 cup unsalted butter
1/2 cup granulated sugar
1 cup confectioners' sugar
1 teaspoon baking powder
1/2 teaspoon salt
1 teaspoon ground cinnamon
2 teaspoons vanilla extract
1 cup hazelnut flour (you can also use almond flour/meal)
2-1/4 cups unbleached all-purpose flour
1 large egg
confectioners' sugar, for dusting
filling:
I used Cookie Butter/Speculoos (Trader Joe's brand), raspberry preserves, and quince jelly. Feel free to use any filling of your choice (fruit jams or jellies such as plum, apricot, blackberry, redcurrant; lemon or orange curd, melted chocolate, etc.). Be as creative as you want!
Directions
1. Beat together the butter, sugars, baking powder, salt, cinnamon, and vanilla extract.
2. Mix in the hazelnut flour, flour, and egg.
3. Divide the dough in half, wrap, and refrigerate for at least an hour. Towards the end of chilling time, preheat the oven to 375F.
4. Roll the dough 1/8" thick. Cut the dough into shapes with a large linzer cookie cutter. On half of the cookies, use small cutters to cut a design out of the center.
5. Carefully transfer the cookies to an ungreased or parchment-lined baking sheet.
6. Bake for 8 to 10 minutes, until lightly browned on the edges. Remove from the oven, and cool on a rack.
7. Dust the cookies with cutout centers with confectioners' sugar. Spread the bottoms of the solid cookies with 1/2 to 3/4 teaspoon filling of your choice. Place a cutout cookie on top of each filled cookie. Allow filling to set. Enjoy!
And here are the yummy cookies (in pretty packaging, I might add) that I was lucky to receive from 3 lovely bloggers. Thank you all for satisfying my sweet tooth and helping me get in the holiday spirit!
Chocolate Mint Truffle Cookies from Julie at Table for Two
Double Chocolate Coconut Cookies from Elizabeth at Chronic Venture
Lemon Ricotta Cookies from Janet at Food Beautiful