candy corn cake pops
Today I'm sharing some candy corn love.
Candy corn cake pops. Made to look but not taste like the popular candy. Great for those folks out there who don't like candy corn but love cake.
Cake pops are a beautiful thing. You can use any flavor of cake + frosting and then decorate to your heart's content. The possibilities are endless. Just check out the website of the queen of cake pops, Bakerella. Her creations always make me smile and drool simultaneously.
These were a lot of fun to make, and for it being my first effort, I think they turned out ok, i.e., I didn't dump 'em straight into the garbage, and I'm actually giving them out to friends (fingers crossed). Using a big candy corn-shaped cookie cutter as a mold dictated how many pops I would get: 8 to be exact. Each is the equivalent of about 5-6 regular-sized pops. Typical cake pop yield from a regular box of mix: 45-50. It's entirely possible to make these mini-sized by shaping them freehand or using a smaller cookie cutter.
I followed Bakerella's easy basic cake pop how-to as well as referenced this tutorial for some guidance on coloring.
They almost pass as popsicles, huh?
The flavor I, or rather my daughter, chose: red velvet cake with cream cheese frosting. No objection here.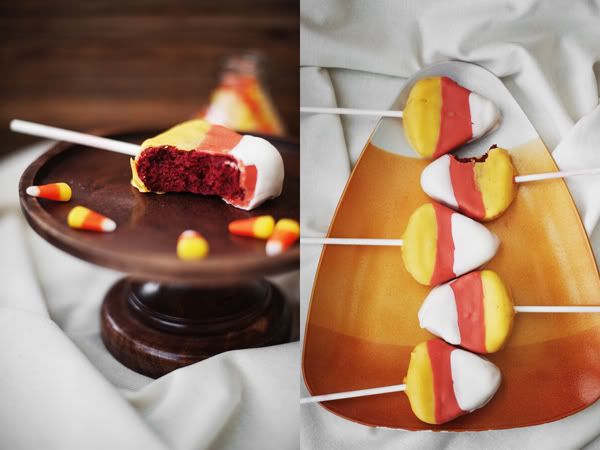 They fit perfectly in treat bags.
Happy eating.