when is it a more perfect time to bake a cake than on your own birthday?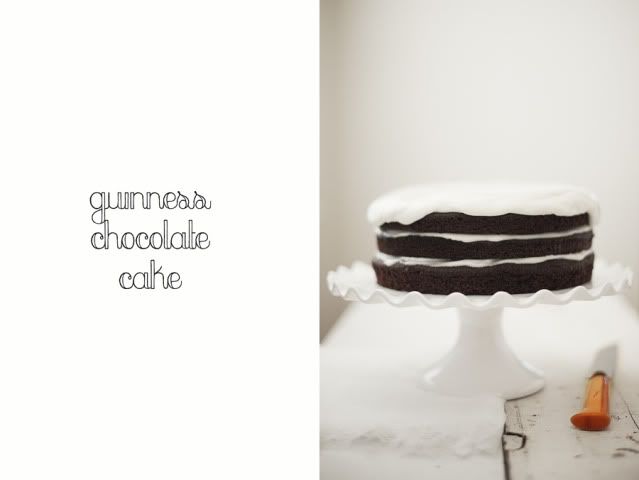 ok, maybe not perfect, because i think inside we all want to be surprised and delighted with cake made by someone else on our special day. but i knew i was on my own today. which was fine by me.
ever since seeing katie quinn davies' take on guiness and chocolate cake on her blog, what katie ate, i've wanted to make it but reserved it for an occasion such as this. i can't/don't drink but apparently i'm intrigued with the idea of using alcohol and liquers in recipes (one i plan to tackle soon involves frangelico).
this is the first time i've made my own birthday cake. an opportunity to try something new, take time to reflect on the day, and let's not forget... to indulge a little.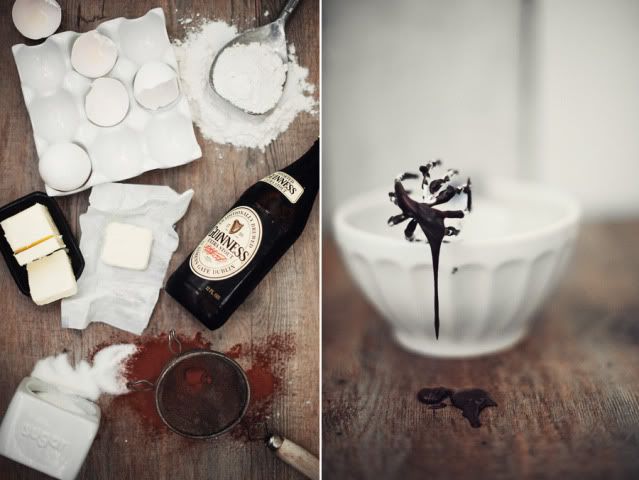 an exciting cake in theory but unfortunately not well-executed. i made a few critical mistakes. i used three 8(?) inch pans and left them in the oven too long; also, it didn't help that i ran out of sour cream midway through mixing ingredients. these two errors combined probably resulted in a hard cake. as soon as i touched the surface of the cakes one hour in, i knew it was too late. additionally, my frosting was not at all like the one in katie's pic. i envy her fluffy, whipped-up frosting top.
not wanting to waste (since it wasn't quite a rock), i ate a slice of the chocolate cake i'd just made. it wasn't bad but could've been so much better; flavorful and sweet but not moist, as expected. i found myself running spoonfuls of cake through frosting to help each bite go down.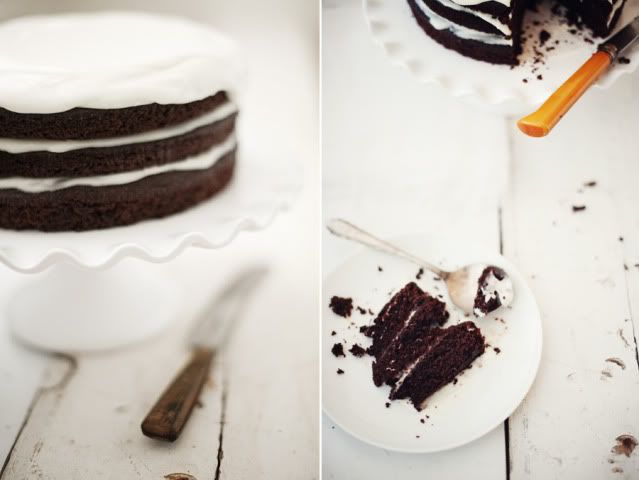 since i'd already started taking photos of the prep and ingredients, i was committed to shooting the final product.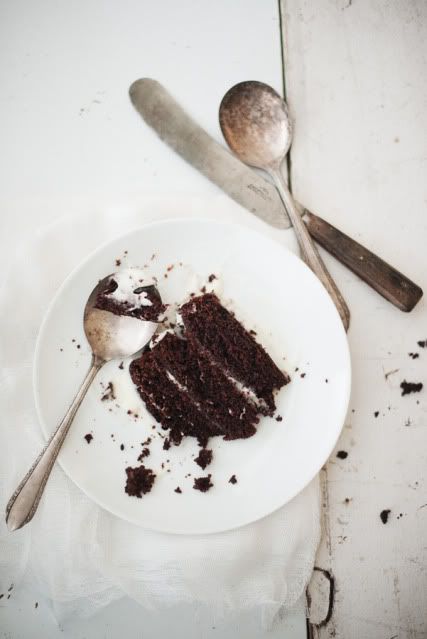 although this marks my 2nd baking fail in a row (see cookies in last post), i've not given up yet. i have too many recipes bookmarked to throw in the towel.
visit design sponge for katie's guinness cake recipe. her photos are simply stunning, and pretty much my source of inspiration lately.
check on the doneness of the cakes earlier if you're using something other than the 8.5" x 3.5" pan the recipe is written for. and make sure you have enough sour cream on hand!
p.s. don't forget, the last day to enter the 'bon appetit' linen tea towel giveaway is tomorrow.