Potato Soup and a Giveaway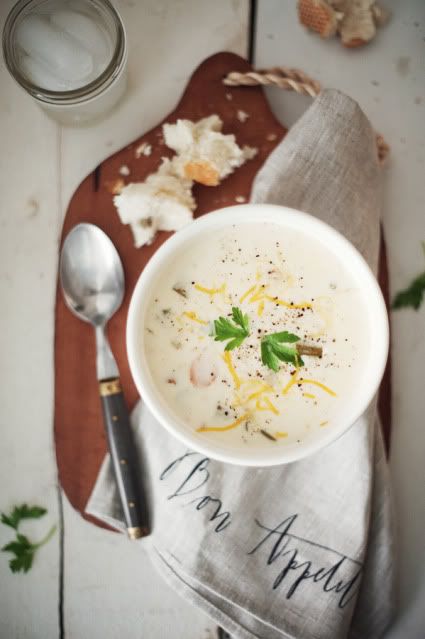 i made this potato soup the other night and it's sooo good that i'm excited to have it as a leftover tonight (had it last night too)! i was going through honey and jam's archives and came across her potato soup recipe. a couple of nights ago i was clueless about what to do for dinner -- this is a regular occurrence, by the way. but instead of looking up the number for pizza delivery, i rummaged through our cabinets and fridge and realized we had a barely touched 10 lb bag of potatoes sitting there. we also had celery, onions, carrots, and chicken stock. hmmm, potato soup was starting to sound really good. so i set out to make it and a few panic attacks later (did i really have to double the recipe? why is it not thickening? will my family like it?) it all came together in a creamy, tasty soup that everyone loved and asked to be put in our regular rotation.
i'll try to post the recipe (i adapted it very slightly) or you can get the recipe on honey and jam's blog by clicking on the link above.
and now for the giveaway part... to make a long story short, i received two of these beautiful linea carta linen tea towels that say 'bon appetit' -- i was only supposed to get one. so i'm feeling generous and would like to give away the other towel to a lucky reader! all you need to do is comment on this post and share something you're doing this weekend (the labor day holiday for those of us in the u.s.). feel free to share the giveaway with others, as well as leave a way to contact you. i will use random.org to select a winner next friday, sept. 9.
have a great, safe, fun weekend everyone.