chili
i admit, in retrospect this is not one of my best efforts at properly styling food. i took a few minutes while the fam was starting in on dinner to shoot and i threw these elements together quite haphazardly. i don't even know/think chili and root beer go together, but i was impatient to use the bottle cap container as i'd had this idea for a while. i think the bottles of root beer would've worked better with burgers or even dogs (perhaps topped with chili?). oh well. the beauty of it is, there's always another day to try out an idea differently, and with a little more planning as it were.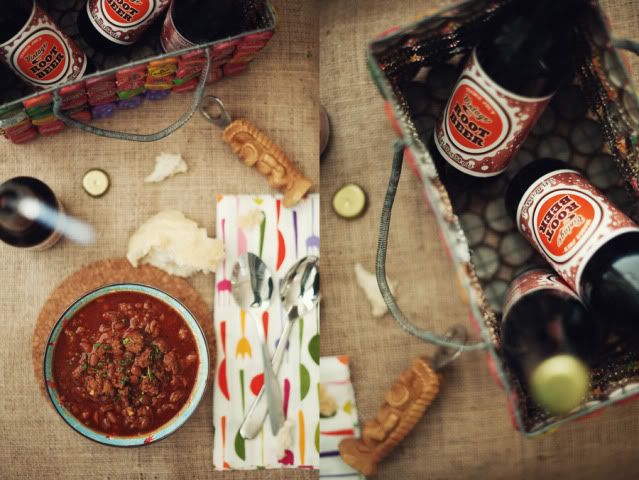 looking at it now, it is a busy scene! (what was i thinking with the cork?!) i love the utensils fabric, and the tiki man cap opener is from hawaii... a piece with sentimental value.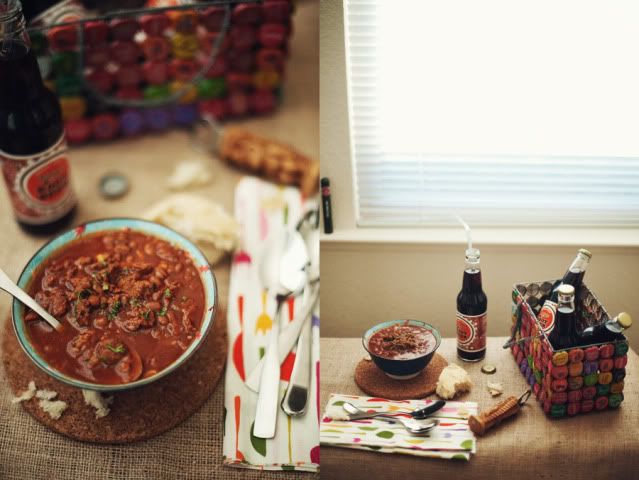 this is a chili that's on the sweet side... more like a cincinnati chili, i suppose? my hubby more or less adapted this from various other recipes he's come across. if anyone decides to follow this recipe, do so at your own risk! hehe. this is just a basic recipe that he wrote down for me right as the pot of chili was simmering away. he's the type that can throw ingredients together and cook to taste; i'm the opposite, less riskier cook and have to follow everything step-by-step. maybe that's why it takes me a gajillion hours to make one dish.
anyway, he would rather his chili be spicy and hot but... the kids have to eat too. it's yummy over pasta (not pictured). and maybe with a bottle of cold root beer. (note: the cans of tomato sauce and beans are the standard sizes you can find at the store... around 14-15oz i think)
the gilroy garlic festival yesterday was fun, but crowded and hot. something we're not used to in the peninsula. i'll post pictures from the day soon.