i'm back from san francisco where i attended a food photography and styling workshop led by danielle tsi of beyond [the plate]. it was great to meet danielle and the workshop host, denise (also a food photographer/blogger), as well as 6 other lovely women who shared the experience with me. the workshop was held at denise's apartment and let me tell you, from the unassuming front entry you'd never know that there is aspacious and gorgeous naturally lit yard in the back. i think having a backyard of any size (much less one with abundant green grass and trees) in the heart of the city is a novelty, no?
i liked the format of the workshop, a mix of class and shoot time with the opportunity to ask questions/help at any time from not just danielle but denise as well. first, we sat through a lecture with an accompanying slideshow of gorgeous images by danielle to help illustrate her points and tips. then it was outdoors for a shooting exercise that allowed us to put some of those tips into practice, reinforcing what we learned in class. we broke up into groups and worked together to set up and style the available food, with the help of an impressive collection of denise's props.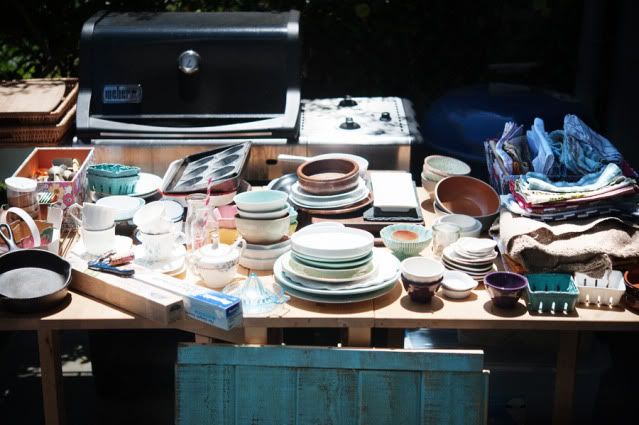 break for a yummy lunch, another brief lecture, and the final shooting exercise. in the last hour we uploaded our top 5 images and shared them with the class. danielle offered critique that was honest and helpful. i enjoyed seeing everyone's work and hearing the rationale behind a shot, then listening to danielle's suggestions on how we could've improved that image.
i'd definitely recommend the workshop to anyone interested in getting their feet wet in food photography. danielle said the workshops are scheduled a couple of times a year so if you're in or near the sf area, keep an eye on digital media playground's workshop calendar. even as a photographer with a few years under my belt, i'm constantly learning, and workshops (here, here, here, and here, plus zack arias' onelight workshop last month that i've yet to blog) have played a huge part in that process. danielle and denise are excellent instructors, and seriously, where else can you play with the food you eat?
special thanks to danielle who let me play with her nikkor 60mm for most of the workshop.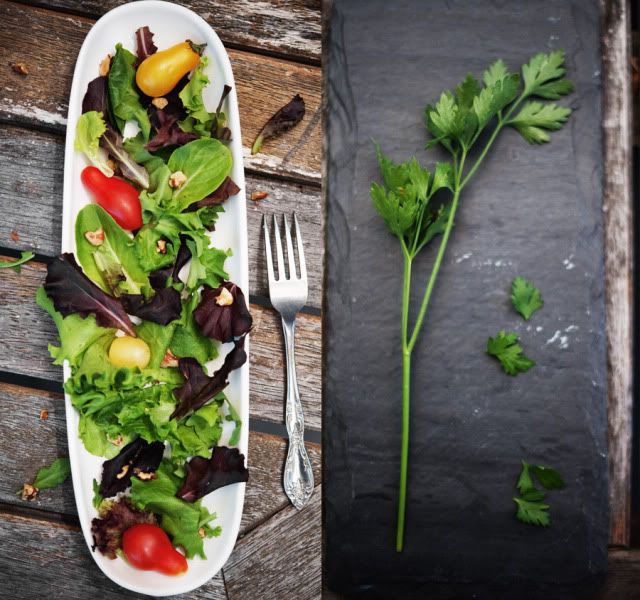 my shooting partner held this bowl of tomatoes (r). thanks, claudine!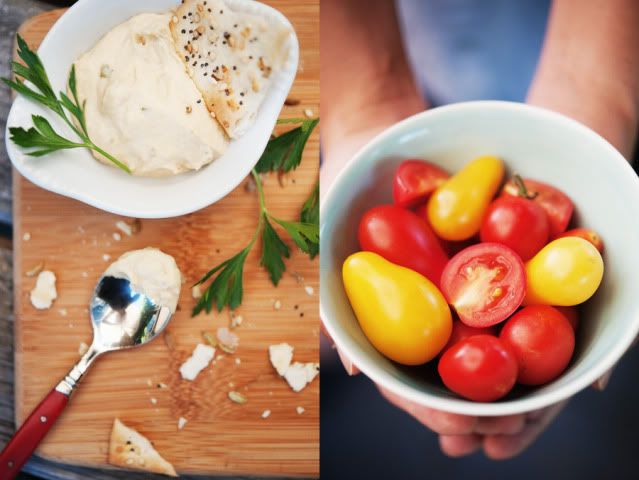 shooting our lunch was encouraged (l)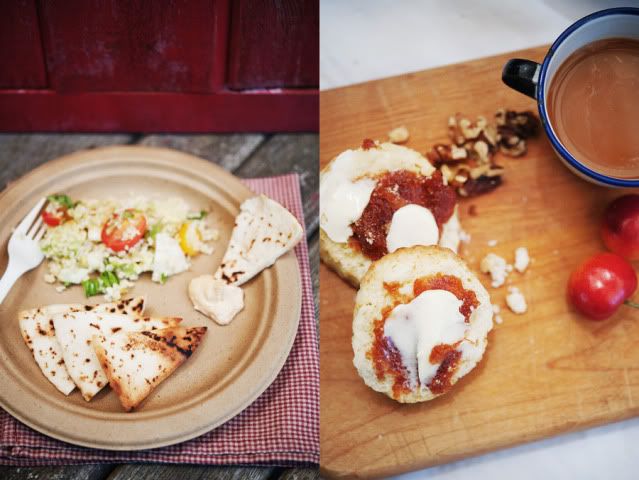 thanks to denise for helping me when i started to go blank. the biscuits and honey idea on the (l) was hers; tells so much more of a story than my attempt earlier (r).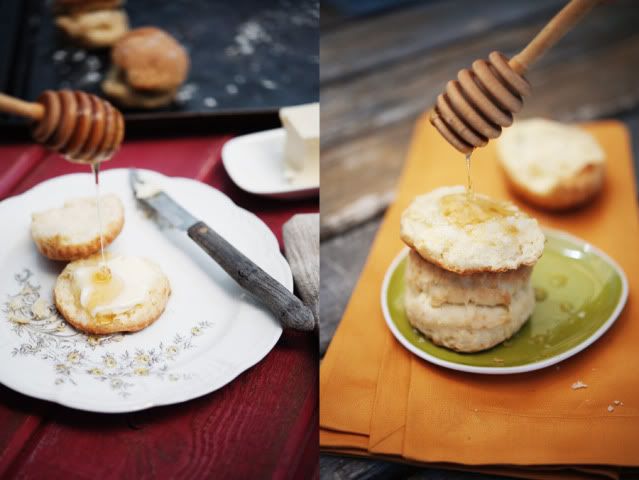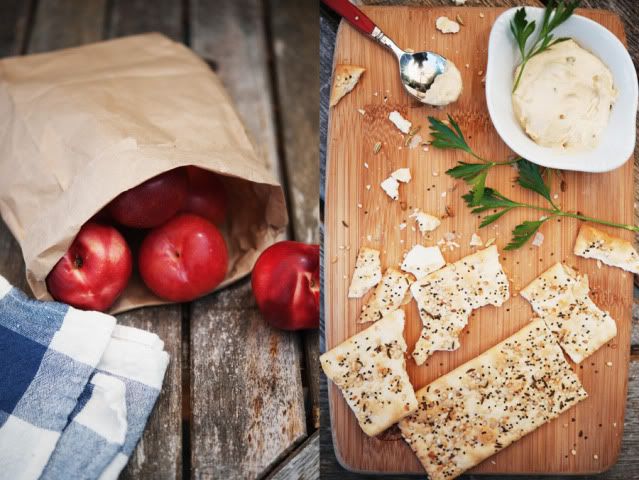 a simple yet beautiful presentation of a biscuit filled with guava jam (l), concept by a workshop attendee. we shared our set-ups with each other... a life-saver for me when i ran out of ideas. everyone was so creative.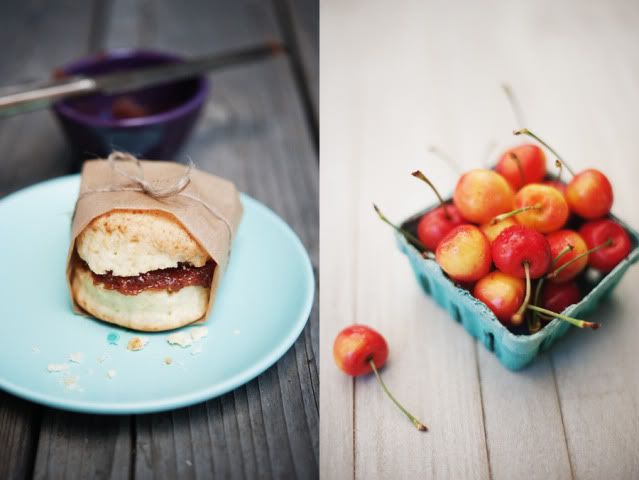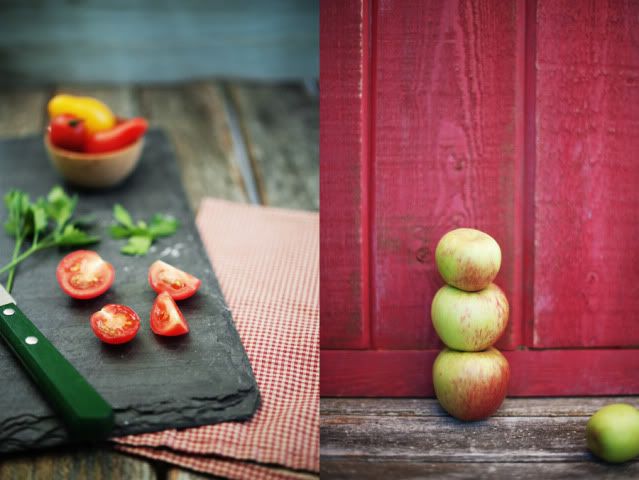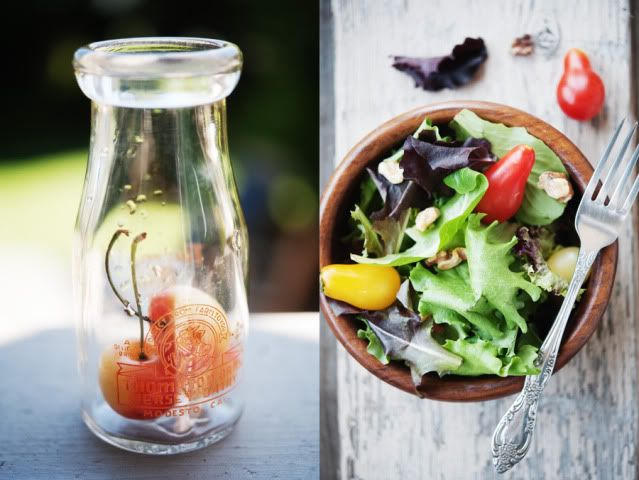 after the workshop and before the long drive home i was on a mission to find some macarons. blame it on all the food blogs and sites where the macaron is praised (as equally as it is cursed, because they're so darn difficult to make when you first start out). i wanted to see what all the hype was about. i typed in the address of miette on my gps. miette is a pastry shop that i had unknowingly come across earlier on our first trip to sf (at their ferry building location), and whose cookbook is on my wishlist. i called the day before and asked if it was necessary to order macarons in advance; the girl said they would have them in-store. they even have a 'happy hour' for macarons -- $1.00 each after 5pm.
Miette (Hayes Valley location), 449 Octavia St, San Francisco, 415.626.6221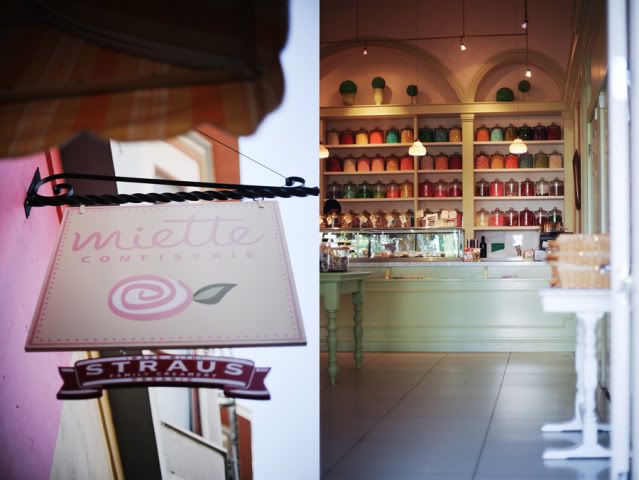 the shop is a visual treat in itself. i spotted the selection of macarons in glass jars on the front counter.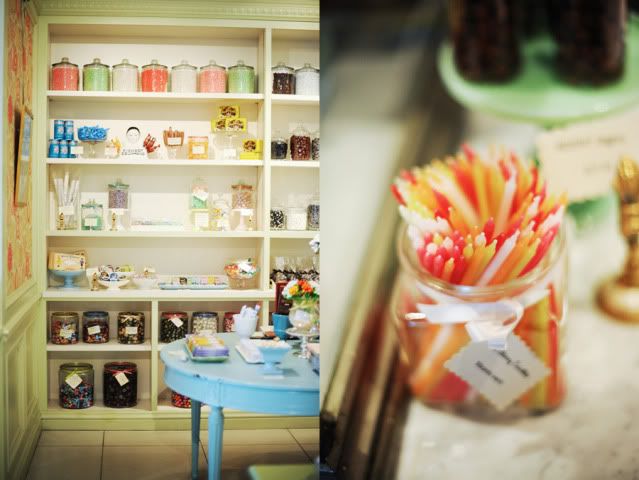 i bought one of each flavor. unfortunately, upon arriving home and trying most of them the next day i couldn't really tell which flavor was which, except for the chocolate parisian macaron. it didn't help that the shells were all brown/beige colored. i guess i have unrefined taste buds.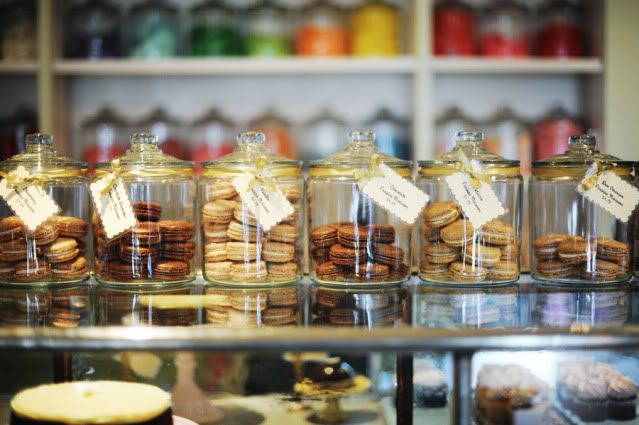 sadly, i didn't shoot as much as i wanted of the miette interior because i had to hurry back to my car which was several blocks away, parked in a metered space that charged a quarter/5 min. the drive there was an adventure in itself. love the city, though not sure i'd want to live there because of the density of cars & people... but i digress. i used to live on an island.
on the walk to miette, i passed by what appeared to be another patisserie selling macarons; the window display (below, l) was what really caught my eye. so pretty. so after miette, i decided to stop in quickly to check them out... you know, see if there were different flavors. to my delight, there were... exciting ones in a rainbow of colors at that. i proceeded to purchase 6: orange passion, country strawberry, lavender poppy, italian pistachio, persian rose, and apricot marzipan. after tasting the pistachio, i think chantal guillon's macarons have a slight edge over miette's in terms of taste and texture. my opinion, of course.
Chantal Guillon, 437 Hayes St, San Francisco, 415.864.2400 (just a short walk from miette)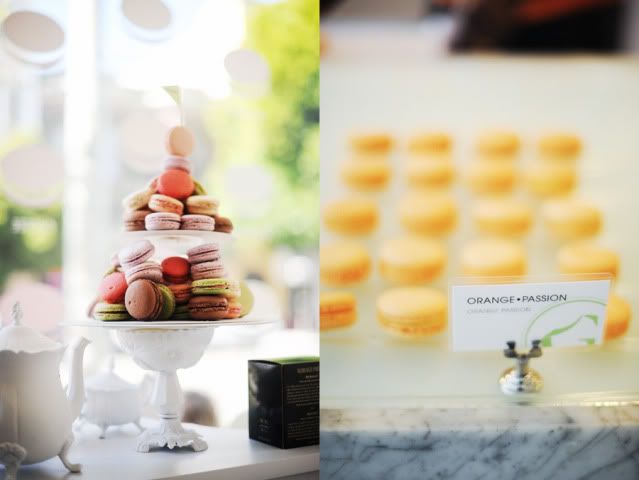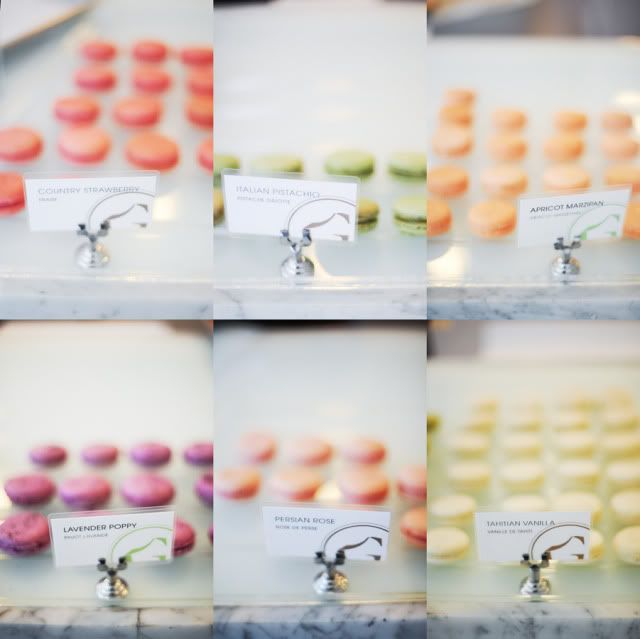 precious cargo in hand, i walked back to the car, satisfied, mission accomplished, and happy to have survived (driving into the city always makes me nervous, especially when i'm by myself).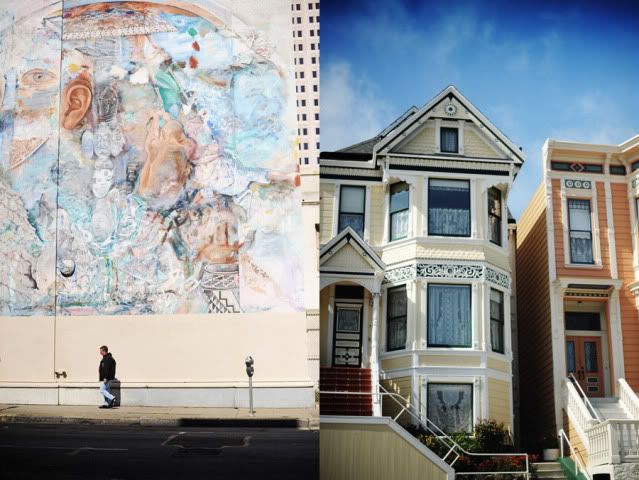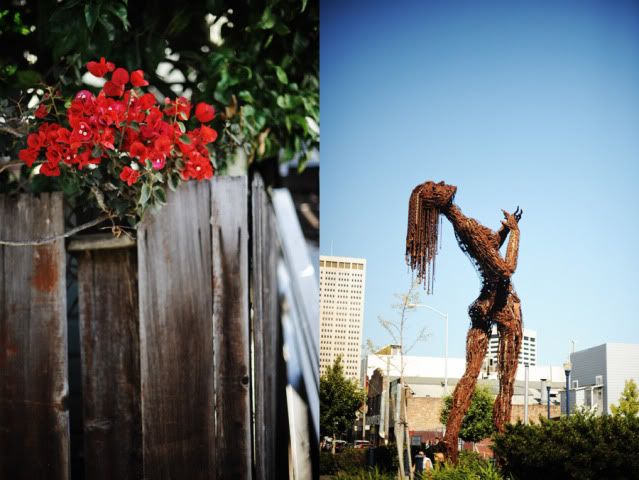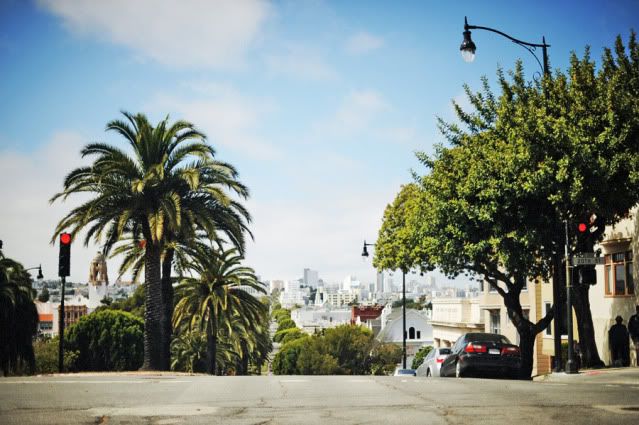 til we meet again, san francisco.
*i will get to the questions left in the comments section on the flan post. thanks for looking.