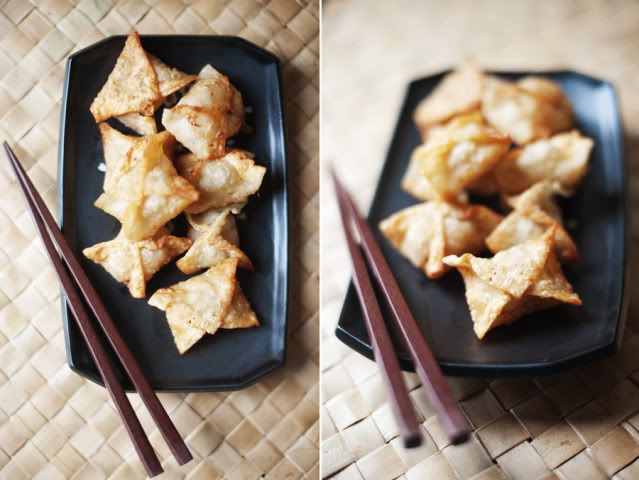 ever since ordering the shrimp dumplings at P.F. Chang's, i've wanted to try to make them at home. these are really easy to make, and will disappear before you know it...
Shrimp Dumplings P.F. Chang-style (adapted from Food.com)
** we actually pan fry our dumplings in a small layer of oil. go to end of recipe for steps for steaming the dumplings instead.
Ingredients
- 1 (12oz) package wonton wrappers
Mix
- 1 lb peeled and deveined medium shrimp, washed and dried
- 2 tbsp minced fine carrots
- 2 tbsp minced fine green onions
- 1 tsp minced fresh ginger
- 2 tbsp oyster sauce
- 1/4 tsp sesame oil
Sauce
- 1 cup soy sauce
- 1 oz. white vinegar
- 1/2 tsp chili paste
- 1 oz. sugar
- 1/2 tsp minced fresh ginger
- sesame oil
- 1 cup water
- 1 tbsp cilantro leaves
Directions
1. Take 1/2 lb.of shrimp and mince fine in a food processor.
2. Take the other 1/2 lb.and dice small.
3. Combine rest of ingredients.
4. With a small spoon, place about 1/2 oz.of mixture into wonton wrapper.
5. Moisten outside edge. Fold corner to corner (opposite and seal). Top should look like cross. Place on a plate covered in refrigerator until ready to serve.
6. Combine sauce ingredients and mix very well.
7. Prepare garnishes.
for steaming dumplings
1. Fill soup pot with water. Bring water to a boil, then down to slight boil.
2. Line bottom of Chinese steamer with light coat of vegetable oil or non-stick spray. Place dumplings in steamer. Cover and steam 7-10 minutes. Dumplings should be firm with internal temperature of 160 degrees.
3. Serve in steamer or on plate. Place 2 oz. of sauce in small bowl for dipping.