journal
This lovely cake is from the new book, Hummingbird Bakery Home Sweet Home. I have a couple of the earlier Hummingbird books but never felt compelled to make something out of them as much as I do from this one. And not just one 'something' but a few... the doughtnut cupcakes and cookies and cream cake come to mind. If you're like me and are a visual person and fan of beautiful photography this book won't disappoint -- there's a photo of the finished product for every single recipe. While my roulade doesn't quite look like theirs (with the perfect swirl in the middle), I'm fairly certain this is not the last time I make this cake.
If you're not caked out yet, head over to A Subtle Revelry and take a peek at easy checkerboard cake I made for Victoria's Creative Cakes series.
We lost a much beloved pet a few days ago. I spent extra time in the kitchen that day... baking, sorrowful. I took his death the hardest, even more than my kids I think.
My husband, after years of astute observation, says I clean when I'm mad, and bake when I'm sad. It's true. Silly as it may sound, baking offers some measure of comfort, at least for me anyway.
Recipe for homemade jelly doughnuts on my good friend Denise's blog; hers look perfectly made, which is what drew me in to try the recipe in the first place. That and the fact that I already had everything, thus avoiding a trip to the store in my pjs, tear-streaked face and unbrushed hair to complete the look.
***
Below, a few of the Santa Cruz boardwalk where I hung out with my dear friend Alisa, who was visiting from Hawaii. Though it's been a year and a half since I moved away, we picked up where we left off -- us shooting, "talking story," eating butter mochi, marveling on how much our kids have grown. Good times. The weather was gorgeous to boot, couldn't have asked for better really.
***
What I'm reading/browsing through.
Very food-centric, eh? The top book, The Alchemyst, is the first in a series that I was introduced to rather randomly. On long drives I listen to the audio CD but at home I enjoy curling up with the book. I loved the Harry Potter books and this reminds me of the time I spent engrossed in that series.
Focus on Food Photography for Bloggers by Matt Armendariz of Matt Bites. The conversational tone and witty voice make this a fun read.
Food Photography & Lighting: A Commercial Photographer's Guide to Creating Irresistible Images by Teri Campbell. Really enjoying this book as the author has provided lighting set-ups and diagrams for shoots described in each chapter. Great for visual learners like me.
Extraordinary Cakes by Karen Krasne. I got this purely based on the stellar reviews, and someday when I'm crazy enough, I will spend several days attempting to make one of the gorgeous, one-of-a-kind cakes in the book.
Kinfolk Volume 5. Always a pleasure to receive Kinfolk in the mail. It's one to be savored for sure.
What Katie Ate by Katie Quinn Davies. She's one of my favorite food bloggers/photographers. I couldn't wait for my copy to arrive and it didn't disappoint. Made the beef and guinness pie already (excellent) and have bookmarked the pumpkin ravioli and coffee hazelnut frangelico cake.
Bake & Decorate by Fiona Cairns (she made Kate and William's wedding cake). Only $2.41 on Amazon; strangely enough, the bargain price is $12.00.
Others releasing in the coming weeks that I'm also looking forward to... Jerusalem, Bouchon Bakery, The Kitchen Diaries, to name a few.
***
Lastly. My sincere condolences to the family and friends of Jen Burgess Thompson. I've not been able to stop thinking about her. After being diagnosed with ovarian cancer a little over a year ago, she lost her hard-fought battle yesterday. She leaves behind two young sons. I can't imagine. I didn't know her but she was part of a huge and immensely supportive photography community so in a sense, I did know her, and am deeply touched and inspired by her. Rest in peace, Jen.
See you tomorrow for Baked Sunday Mornings.
Gorgeous chauteaux in the Loire region; each one unique and rich in history.
Chauteau de Villandry
Chauteau d'Amboise
Chauteau de Blois
Chauteau de Chambord
A few links:
* check out Thursday's fun food feature over at A Subtle Revelry.
* enjoying Edible Selby very much; love the Pierre Herme and Tartine Bakery pieces.
* for breakfast this morning, had a slice of this lemon and almond streamliner cake (from Vintage Cakes cookbook). sorta looks like Pac-Man, no?
I bit the bullet and purchased an ice cream maker last week after coveting one for at least a year. I had some memorable gelato at Amorino in France as well as a taste of famous Berthillon glace, and while regrettably I can't have them here, I can at least try to recreate the flavors at home. No matter that, where I live, there's really no such thing as hot weather. Most days of the traditional summer months are characterized by blankets of fog and temps in the 50s and low 60s. But it's summer and may as well eat a little (or a lot) of ice cream.
I christened my new ice cream maker with Jeni's Goat Cheese Ice Cream with Roasted Cherries. I wanted something a little unconventional but not terribly far out there. Besides, the window to use cherries is so small...
Jeni's technique for creating the smoothest, creamiest ice cream appealed to my inner science geek, not to mention this particular recipe satisfied the cheesecake lover in me. Yes, this ice cream tastes like cheesecake, thanks in part to the small amount of cream cheese in the recipe, as well as the addition of tangy goat cheese. The roasted cherries and sauce are layered in the ice cream, creating random swirls and ribbons of crimson in white. Don't forget to reserve a little of the compote to serve as a topping.
I don't own Jeni's book yet but am convinced that it's one to place on my bookshelf.
We only got up close to this oft-photographed monument once, and it was on the day that France and Spain were playing against each other in the Euro Games (soccer, and Spain won). It was insane to be out that night with hordes of people everywhere, but it was strangely invigorating as well. My biggest regret is not reserving lift tickets in advance and therefore missing out on the chance to get a different perspective from up above. Next time (there's always a next time)...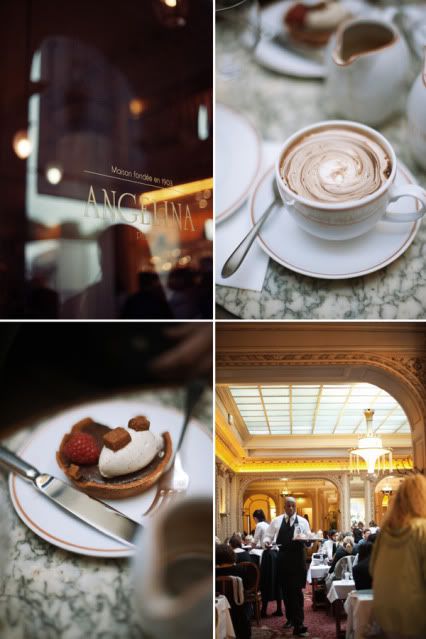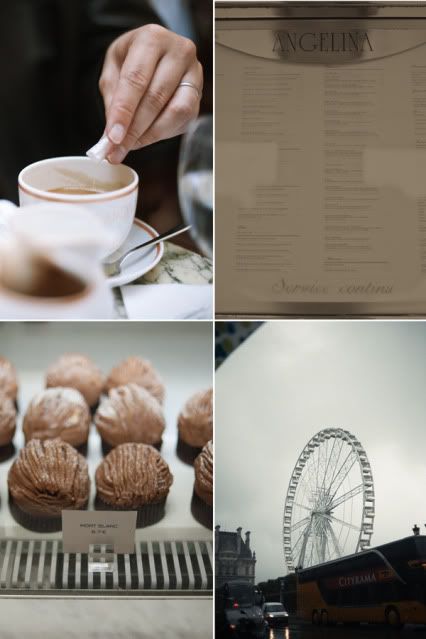 A rainy, late afternoon spent at the fabled and elegant Angelina on Rue de Rivoli in Paris. An opportunity to rest our weary feet and unwind after many hours touring the Louvre, and enjoy each other's company over slow sips of coffee and hot chocolate (their famous le chocolat chaud a l'ancienne dit l'africain) while sharing small bites of macaron and tartelette. We celebrated our 8th anniversary in a tearoom once frequented by the likes of Coco Chanel and Proust. It's one of my fondest memories of Paris and the trip. Ever the collector, I brought a bit of Angelina home.
Angelina Salon de Thé
226 rue de Rivoli
75 001 Paris
Have a safe Friday the 13th!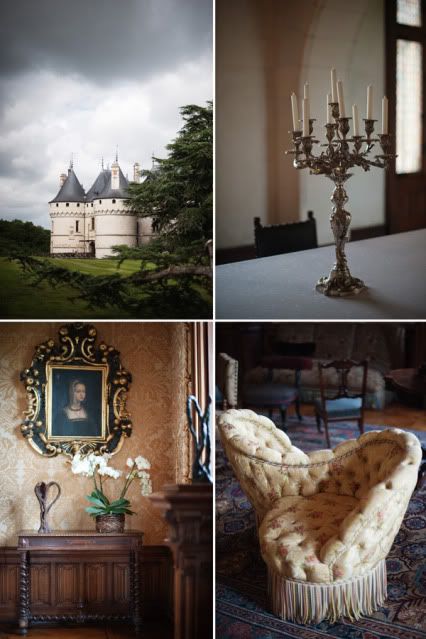 One of our favorite chateaux in the Loire Valley. I found the attic rooms filled with bric-a-brac and old furniture as fascinating as the finished, elaborately decorated rooms in the rest of the castle. The contrast between these two areas of the house is clearly evident but even decay is beautiful. I loved the light in those rooms and can easily see the creation of a tableau inspired by food in one of them.
The horse stables are impressive -- maintained with great care and so today remain in excellent condition. At the time it housed the largest saddle collection in the area. Unfortunately we didn't have time to walk the gardens though I hear they are worth it.
More France photos to come. Film rolls have not been sent away yet :/
p.s. the Toms ballet flats (above) I bought for the trip, in anticipation of all the walking, were disappointing, despite breaking them in before we left. The rest of the trip I wore my super comfy $15 flats from Old Navy. My feet were much happier for it.
I've been home about a week after a whirlwind seven days in France. It's all that I imagined, and remembered, it to be. I feel like our trip just barely touched the surface of what's to be explored, and already it feels like a distant memory. Paris was just one of the places we visited and while every villlage, town, and city we passed through was charming in their own way, I fell for Paris the hardest. I imagine I am not alone in feeling this.
Here are some instagram snaps, most were in Paris and were taken with my iPad, which is why there are only 9 pics. My husband says some guy almost knocked the iPad out of my outstretched arms as I took the photo of the Mona Lisa. Not wise on my part.
I shot digital and film and am hoping to develop the rolls soon, at which point I'll drum up a couple of blog posts. Below are a few captures from my digital camera.
Le Mont Saint Michel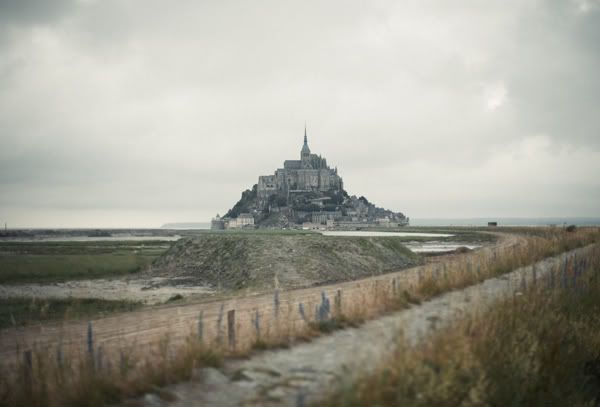 I dragged my husband on the metro in search of beurre and fromage (butter and cheese) from Pascal Beillevaire, a fromagerie in the Marais district (with other locations city-wide) that I read about on David Lebovitz's blog. I was a bit OCD about these traveling home... would they be squished in our luggage? Would customs confiscate them? I had silly visions of U.S. agents gathering around eating and enjoying my confiscated butter and cheese. Was I overreacting? Likely.
Well, the anxiety was unncessary. They got through fine, if not a tiny bit melted, probably from the layover in 94 degree Houston. A few days after returning from France, I stopped by the new Provence bakery in town (see previous post) and picked up a couple of warm baguettes to eat with the butter and cheese. Perfect goodness.
Finally, but not related to France... just want to share what we've been busy with since the day after our trip. Jetlag and a new puppy do not mix is the lesson to be learned here. Sleep deprivation aside... he's a great pup and the love between he and our family was instantaneous. Handsome and curious, loves to nip on toes, socks, the couch, his doggie bed, etc., and current favorite activity: likes to growl and bark loudly at the plastic container of apple cider on the counter. Dogs are so funny.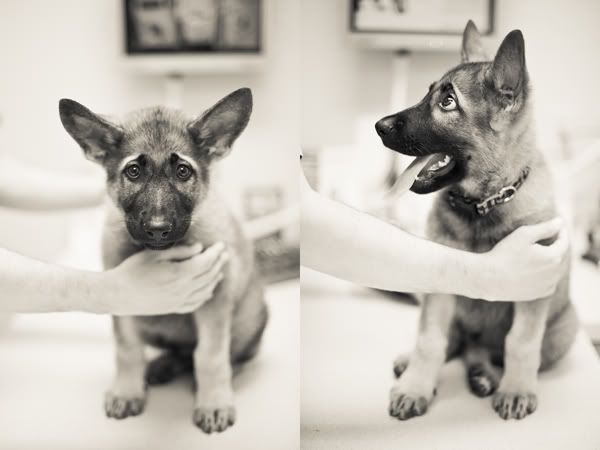 p.s. I've been watching Cesar Millan (brilliant man) and his show The Dog Whisperer like crazy. Gets my mind off missing France, you know.