Monthly Miettes: Buttermilk Panna Cotta
This month's Monthly Miettes recipe is Buttermilk Panna Cotta. It was one of the first recipes to catch my eye when I first paged through my Miette book, so pretty and unassuming on its scalloped page. I've always wanted to make a panna cotta but other, more flashy and/or complicated recipes (layered cakes or macarons come to mind) would push it aside.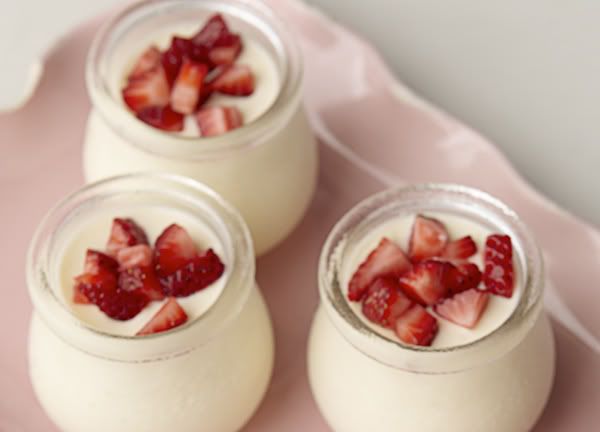 (photo from Miette website)
It's why I'm glad Aimée chose it this month. No more excuses to put it on the backburner. It was serendipitous.
The timing was perfect to use freshly picked strawberries from a local farm. The blueberries, well, were from the store, but served as a great accessory to the panna cotta. The Miette photo above shows a simple presentation, which I adore. I happened to have a similar-looking Weck tulip jar which I used as the centerpiece. Another Weck jar and a wide-mouthed mug (to encourage sharing of course) serve up different sizes of this rich dessert.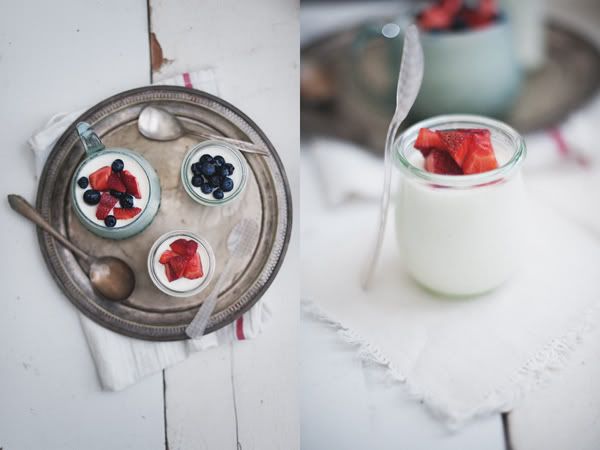 The first bite made me wonder why I waited so long. But that's ok because berries are in season here and are indeed the perfect accompaniment to the cool and tangy flavor of the panna cotta. It's laced with vanilla bean, too, one of life's simple pleasures (in my opinion).
I can see this being served up in mini jars or small ramekins, perhaps at the conclusion of a 4th of July BBQ. Or simply enjoyed at breakfast, which seems like a good idea to me right now.