journal
Happy Macaron Day! A Hunger Games-inspired macaron, and a green birthday cake.
Today, March 20, is Jour du Macaron (Macaron Day). Declared by none other than the 'Picasso of Pastry,' Pierre Hermé himself, this day celebrates the small, colorful confection that has taken the world by storm.
Since I'm at least 2 hours away from any bakery handing out free macarons today, I still wanted to pay homage but wasn't sure I'd be able to come up with something on my own. As it turns out, an idea for a new macaron (to me, anyway) occurred when I realized that this is the opening week of The Hunger Games, the wildly popular trilogy-turned-into-a-movie(s). I've read all three books by Suzanne Collins (The Hunger Games, Catching Fire, Mockingjay) -- at a record speed, I must say; a huge accomplishment as I usually fail to finish any book I start. I'm eager to trek to the theater at some point to watch the cinematic adaptation of the first book in the series.
I won't say much about the story here but this macaron was inspired by the teenage heroine, Katniss Everdeen, the Girl Who Was on Fire. In one scene early in the first book, she and her friend, Gale, are in the woods where they frequently, and illegally, hunt. They're sharing a snack of fresh bread topped with basil and goat cheese as well as blackberries they've foraged. Food, and the lack of it, in their post-apocalyptic world, is an important and recurrent element in the books.
Well, you may have guessed where this is going. It's a little silly but I was inspired by a simple meal described in a novel. Macarons were probably nonexistent in the fictional world of Panem but combining Macaron Day and The Hunger Games was too hard to resist. I made a macaron filled with a goat cheese-basil buttercream and at the center of each macaron is a small dollop of blackberry preserves. The decoration on the shells are red, orange, and yellow pearl dust -- to represent fire/Katniss. Hey, it's just my interpretation.
Watch out, Downton Abbey could be next...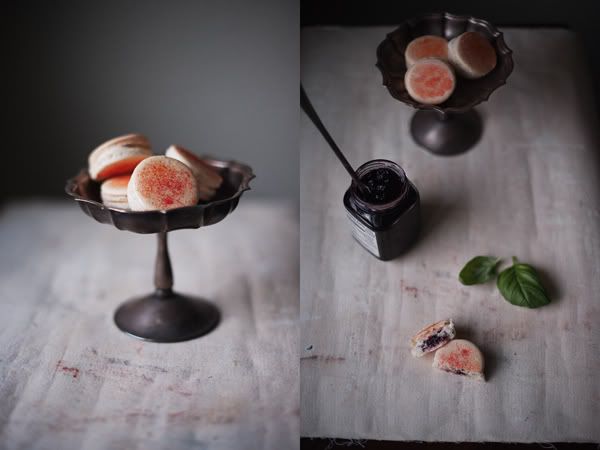 The macs are supposed to chill out in the fridge for 24 hours so I don't have a report on what one tastes like with all the flavors melded together, but biting into the sample above did not make me want to trash the batch. So that's a good sign. I think the buttercream could use some tweaking, in incorporating the basil better, perhaps even adding blackberries directly into it.
Here are a few pics of the cake I made for my son for his birthday. It took me a while to decide on a cake; I pulled out all of my baking books and took over the family room looking for the perfect recipe. I finally chose the triple decker cake, a quintessential birthday cake, from Home Baked Comfort. Instead of only 3 layers, I made it hard on myself challenging by creating 6 layers (a PITA when you have only one cake pan) and colored each layer a different shade of green; thanks to Pinterest and Whisk Kid for the ideas and inspiration.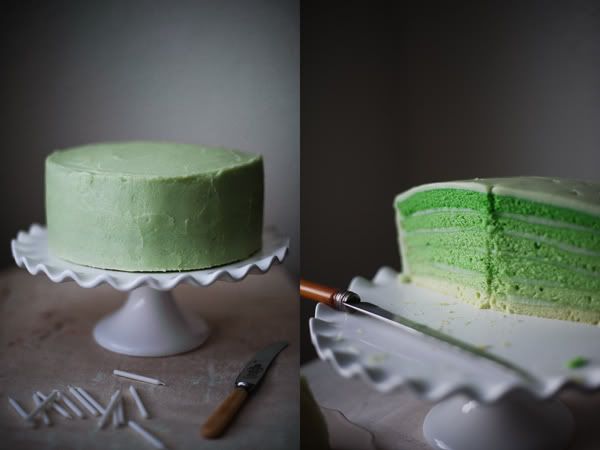 For the frosting, I went with a mint buttercream recipe from Baked: New Frontiers in Baking. It makes more sense to pair mint with chocolate (the buttercream goes with their Grasshopper Cake) but alas, the boy doesn't like chocolate cake. It turned out splendidly anyway. He told me things like, "Mom, this is the best cake ever," and "You can make this anytime!" Those are words a mama likes to hear. Next time I'll buy extra cake pans.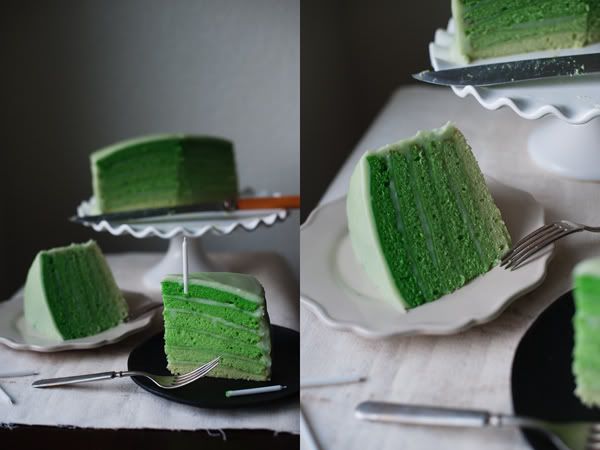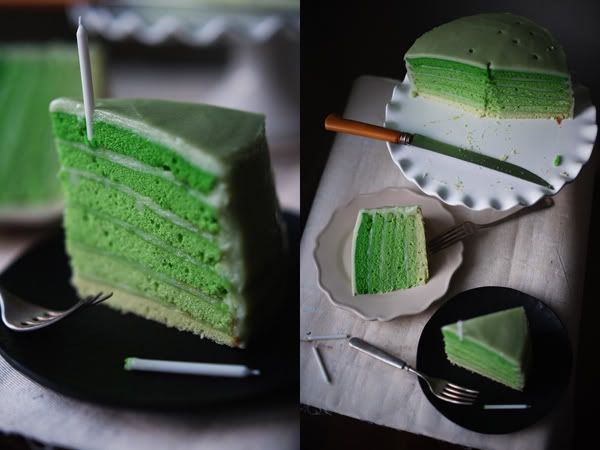 p.s. all shots were taken between approx. 6:30-7:30pm... this is why I love DST. I also hate it as it's still kicking my butt in the mornings!