journal
Butter Cupcakes with Browned Butter Frosting on a Butter Dish (that's a lot of butters)
I try (i.e., force myself) not to visit Anthropologie, both online and physical store, too often for fear of awakening the part of me that wants to foolishly max out the credit card on stuff I really don't need. I've done fairly well for several months; I call it retail abstinence. They've even done me an enormous favor by not mailing the catalogs to my house (even though I've signed up a million times to receive them). Out of sight, out of mind.
In the midst of some workout-induced stress a week or so ago, I found myself on -- you guessed it -- for a little retail therapy. I was only supposed to look. Like so many of you out there I'll find a lot of things I want but usually (sometimes) have the willpower to refuse purchasing. However, when I spotted this vintage-inspired sea foam green butter dish, I fell in love and had to have it. I justified the whole thing by telling myself that I don't own a butter dish.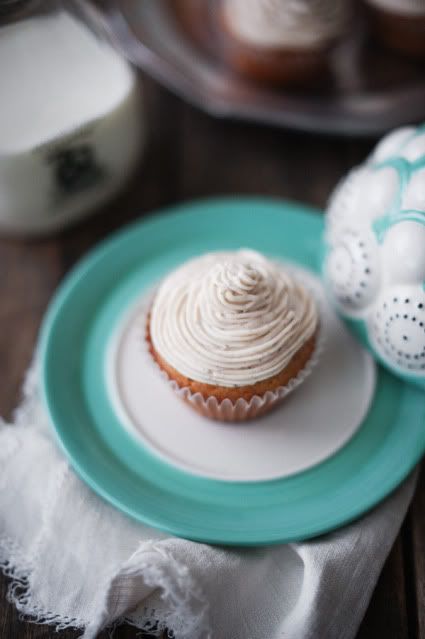 When I met up with local bloggers Deb and Jean a couple of weeks ago for some coffee time, I showed them a photo of the butter dish on my phone. Jean said it looked like a cake. I had to agree.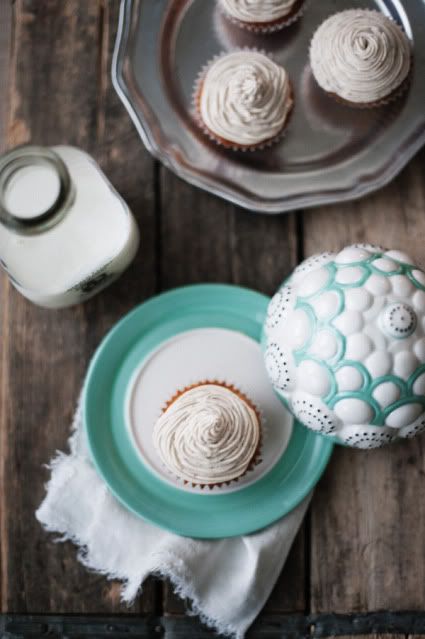 When I got home and showed my husband the butter dish (he doesn't get my interest in kitchenalia) he just kind of shook his head and said plainly that it looked like a boob. Yes. When he uttered that, I was astonished but even more surprised at my next reaction -- that of agreeing with him. So there you go, folks... I'm the proud owner of a mint-colored boob-shaped butter dish.
I'm keeping it anyway. It's functional and if I don't want to be reminded of a woman's chest, I can just use the plate. Ha.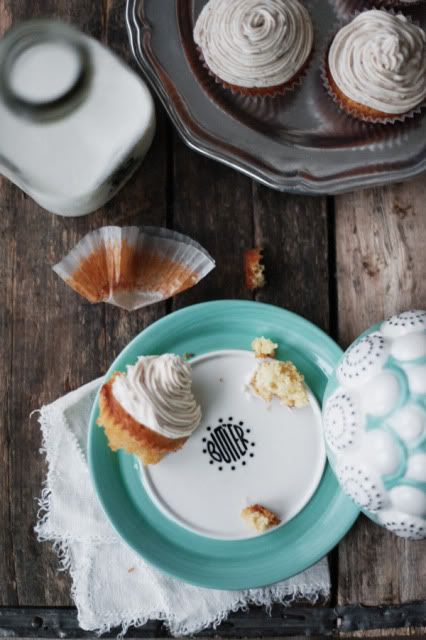 Anyway, I thought this butter cake recipe was the appropriate dessert to make for the occasion. I found it when I was craving brown butter one day. It wasn't too sweet and the frosting, with its beautiful specks and subtle nutty flavor, elevated the cake, I thought.
Brassica Butter Dish from Anthropologie
Butter Cake with Browned Butter Frosting (I made cupcakes instead)
The next few days are going to be a dream for the foodie in me. Going to visit a local olive oil producer and also learn from the one of the best on how to make macarons. I'm sure the camera is going with me so pics to ensue...