journal
Cranberry Cardamom Bread
My second baking adventure this past weekend involved cranberries, cardamom, and a hint of lemon, combined in a braided loaf and topped with sugar and almond slivers.
This was my first time making bread. It was surprisingly easy, and strange as this sounds, relaxing. It took the better part of a Sunday afternoon to make and babysit the dough as it doubled, and I enjoyed every minute of it.
When it was time to braid the ropes I tried to reference my experiences of braiding my daughter's hair. Uh, not sure that helped. I tried; at least it's passable.
I checked on the loaf a few times, peering through the glass of the oven door to see it transform into a gorgeous golden brown color, bits of burst cranberries dotting the surface. The emanating smell -- sweet, citrus-y -- made the anticipation of biting into a piece worse.
I'm not a tea drinker but I made some Darjeeling for the occasion. My husband bought it in London, in transit from Bahrain to Hawaii. So I consider the tea to be special because it came from afar... though I'm still not sure what compelled him to buy it (as he knows I don't drink tea)....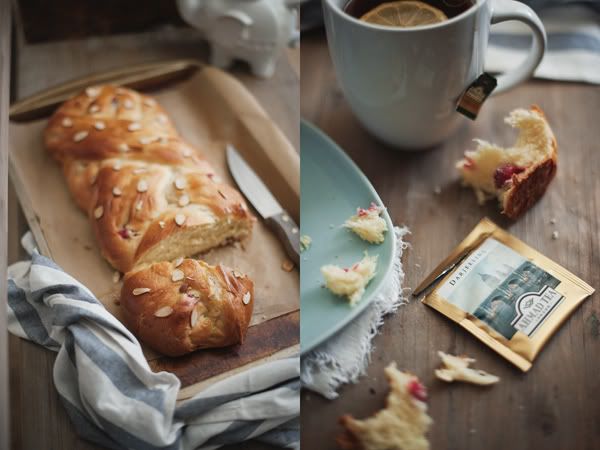 It just so happens that the tea was the perfect accompaniment to the bread. Unfortunately, the cranberries were a bit too bitter for my taste (and the fam's) but overall the bread was rated an A. Next time I'll omit the cranberries and replace with dried fruit or nothing at all.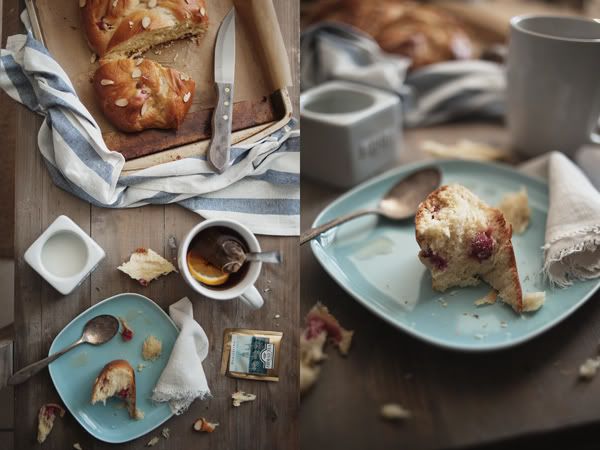 Recipe is adapted from the Figgy Cardamom Bread I found on Williams Sonoma online. It's also in the new cookbook, Home Baked Comfort by Kim Laidlaw, featuring recipes from bakeries (e.g. Baked, Tartine, etc.) and bloggers (Smitten Kitchen, Bakerella, Canelle et Vanille) alike. I pre-ordered the book and could not be more excited to get it next week (Williams Sonoma stores carry it now).
*Instead of dried figs I used cranberries left over from the holidays, with a sprinkling of lemon zest at the step where the figs/cranberries are incorporated into the dough.