journal
in the mood for strawberries. in january.
Have you read or watched The Help? I saw it over the holidays (on DVD) with my mother-in-law and let's just say we were a sad, albeit amusing, display of waterworks during the movie. Not being a huge reader, I didn't have a chance to go through Kathryn Stockett's best-selling novel prior to viewing the flick so I'm not sure a fresh strawberry cake is even mentioned in the story (and if it was in the movie, I missed that detail too). A slew of southern foods appear in the film, though, something that at once caught my attention because 1) it's Down South home cooking, and 2) I was really hungry.
I'm surprised there isn't a cookbook dedicated to the foods from the movie, or at least a few recipes printed in the book. However, a great article, complete with dishes inspired from The Help, was published in Food and Wine. I'm especially eager to make Minny's Chocolate Pie; for those familiar with the story, you may be grinning pretty wide right now at the reference.
Fresh strawberry cake recipe here, from another list of foods featured in the movie. I was losing light fast so the whipped cream went on a still-warm cake, hence the drips down the sides.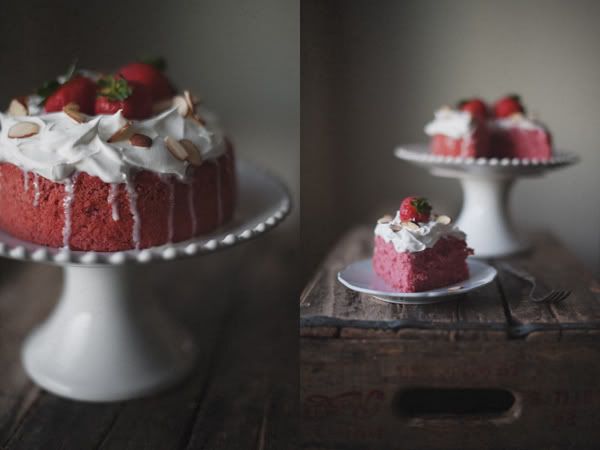 For the tarts below, I made the filling from this Lemon-Berry Tart recipe and used leftover hazelnut dough to make the crust. Nothing special, just wanted to break in my new mini tart pans.
For those in the U.S., Happy MLK Day.