journal
satsuma mandarin and vanilla upside-down cake
Hello from the other side of Christmas. Hope everyone had a wonderful holiday weekend. It was a pretty quiet one spent at home and aside from most of us in various stages of being sick, it's great we were able to spend this time together with no departures looming (unlike last year).
I was in a baking frenzy most of last week, trying to mail out boxes of cookies to friends and family for the first time ever. I've baked and shared before but never on this scale, and it felt really good to hear positive remarks from everyone afar. I always appreciate homemade over store-bought any day so if the recipients are anything like me, I think I made a few people happy.
I finally slowed down on the baking on Christmas Eve, only making a batch of brown butter and fleur de sel chocolate chip cookies for none other than Santa. But before that I baked a couple of cakes, one being this divine satsuma mandarin and vanilla upside-down cake. As soon as I saw the tangerines at the store, I had to grab a few even though I had no idea what I'd do with them. Though small, they stood out, and instantly cheered me up with their bold, bright color.
Originally I thought about making some sort of bread but after a bit of searching, it came down to two cake recipes: a toss-up between a cheesecake and this upside-down cake, and the latter clearly won out because it showcases the oranges so beautifully in presentation and taste. My daughter wanted to pick out the orange slices on top, and I don't blame her -- the skins were so tender and sweet! The vanilla really accentuates the flavor of the mandarins and adds depth to the cake; it was love at first bite.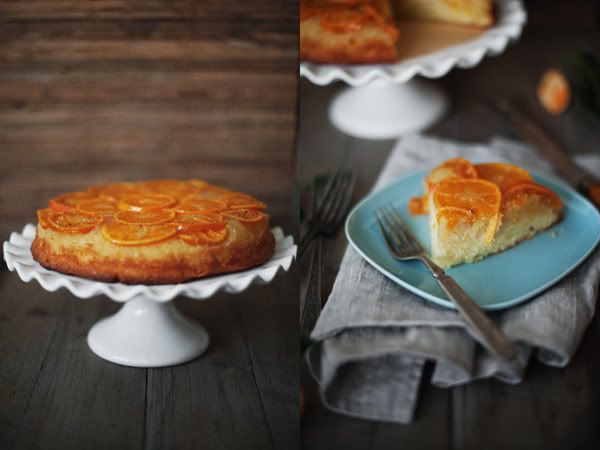 Recipe from Martha Stewart.
Oh, and that mini cake from the last post? It's an encore appearance of the luscious red velvet cheesecake I've made before. Recipe from 17 and Baking.
If I don't post again before 2012 is here, I just want to say "Happy New Year" to you! Hoping it is a healthy and prosperous one for all. Thanks for reading/looking/commenting. See you next year!