journal
cheddar, bacon & scallion scones
Happy Fall.
my three little pumpkins.
You may remember me saying something not too long ago about my fear of pastry dough and pie crusts. I am happy to report that I partially conquered those fears today when I made these cheddar, bacon and scallion scones. It's a small milestone and I should follow up by baking a triple chocolate cake with peanut butter frosting to celebrate the occasion.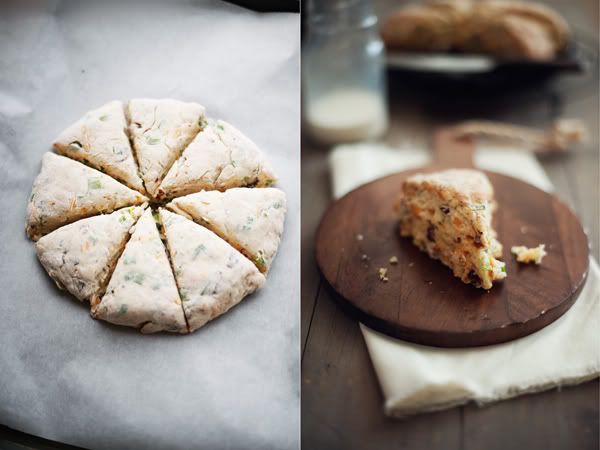 Just kidding on the cake. For now. I won't even think about it until I've successfully made my first pie, most likely an apple pie since I have a countertop full of them. The pie crust will require a little more more love and tenderness than these scones did.
Wish me luck.
So, we ate about 3 of these suckers and boy are they filling. About an hour later we had dinner... my husband slow-cooked a pork butt and we had the most satisfying pulled pork sandwiches to date. However, I do not recommend stuffing your face with scones before dinner. Needless to say, my belly was full and happy and not long after I was ready for a nap.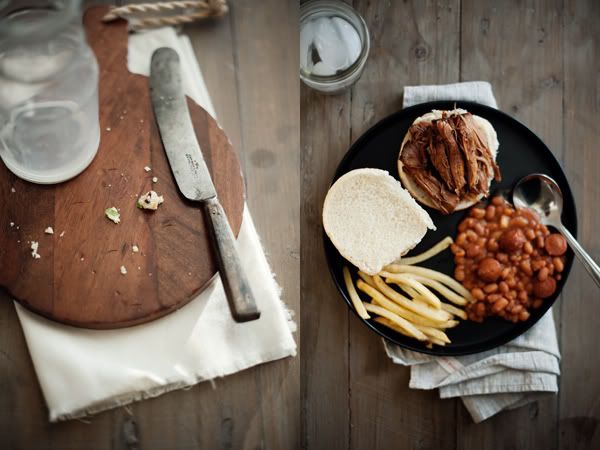 CHEDDAR, BACON & SCALLION SCONES
(recipe from King Arthur Flour)
Yield: 8 large scones
2 cups (8 1/2 oz) AP flour
1/2 tsp salt
1 tbsp baking powder
2 tsp sugar
4 tbsp (1/2 stick, 2 ounces) cold unsalted butter
1 cup (4 ounces) very coarsely grated or diced cheddar cheese
1/2 cup (about 1 ounce) snipped fresh chives, or finely diced scallion tops (the green part)
1/2 pound bacon, cooked, cooled, and crumbled (about 1 cup)
3/4 cup (6 ounces) heavy cream or milk, or enough to make the dough cohesive
Method
Preheat the oven to 425F. Lightly grease a baking sheet, or line it with parchment.
Whisk together the flour, salt, baking powder, and sugar.
Work the butter into the flour until the mixture is evenly crumbly.
Mix in the cheese, chives (or scallions), and bacon until evenly distributed.
Add 3/4 cup of the cream (I used milk); stirring to combine.* Try squeezing the dough together; if it's crumbly and won't hang together, or if there are crumbs remaining in the bottom of the bowl, add cream until the dough comes together. Transfer the shaggy dough to a well-floured work surface.
Pat the dough into a smooth 7" disk about 3/4" thick. Transfer the disk to the prepared baking sheet.
Use a knife to cut the disk into 8 wedges, spreading the wedges apart a bit on the pan.
Brush the scones with a bit of extra cream; this will help their crust brown.
Bake the scones for 22 to 24 minutes, until they're golden brown. Remove them from oven, and cool right on pan. Serve warm, or at room temperature.
*I gradually added the milk, using almost all of it except for maybe about a teaspoon. One of the tips I learned in the King Arthur Flour demo is not to add all of the liquid at once because you want the dough to just hold together. You don't want the dough to be too crumbly or falling apart (not enough liquid) or goopy and sticky (too much liquid, in which case any added flour to counter the excess will make it tough). As I was working the dough, I could tell it was "done" when it held its shape without any pieces or crumbs detaching.