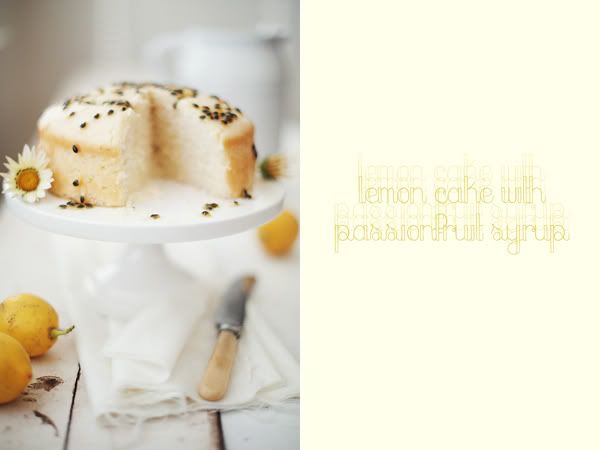 This cake hardly seems like a fall-inspired food to showcase but I've had to make use of a few of my random farmers' market finds... passionfruit and meyer lemons today. I hear the beautiful weather we've had (sunny and in the 70's) won't be here much longer so if the warmth and light in these photos are any sort of reflection of my current disposition, one should expect images on the blog to be of a different mood soon. The Indian summer is almost over.
The life of being attached to the military is all about adapting, and slowly but surely, I am. While I cherish the sun, I'm reluctant but prepared to head into the season with my Vitamin D supplements and cool weather wardrobe.
Since I've been on a soup kick lately, I plan on taking advantage of the cooler temperatures in the coming months and stepping out of my comfort zone in the kitchen. Soups, breads, stews, casseroles, pies -- recipes to challenge me, and feed my family.
Lemon cake recipe will be posted here later today.
Lemon Cake with Passionfruit Syrup
servings: 8-10
Ingredients
for cake
125g (4oz) butter, softened
1 cup (220g/7¾ oz) caster (superfine) sugar
2 eggs
1 cup (250g/8 oz) sour cream
1/4 cup (60ml/2 fl oz) lemon juice
1 tbsp finely grated lemon rind
2-1/2 cups (300g/10½ oz) self-raising (self-rising) flour
1/2 tsp baking powder
for passionfruit syrup
2/3 cup (165ml/5 fl oz) passionfruit pulp
2/3 cup (150g/5¼ oz) caster (superfine) sugar
1 cup (250ml/8 fl oz) water
Directions
Preheat the oven to 180C (350F).
Place the butter and caster sugar in the bowl of an electric mixer and beat until light and creamy.
Add the eggs and beat well.
Mix through the sour cream, lemon juice, rind, flour, and baking powder.
Spoon the mixture into a lightly greased 23 cm (9 in) round cake tin lined with non-stick baking paper.
Bake for 40 minutes or until cooked when tested with a skewer. Leave the cake in the tin for 5 minutes, then place on a rack over a plate.
To make the passionfruit syrup, place the passionfruit, sugar, and water in a saucepan. Cook over low heat, stirring, until the sugar is dissolved, then increase the heat and boil the syrup for 4-5 minutes or until it thickens slightly.
Pour half the hot syrup over the top of the hot cake. Allow the cake to stand for 5 minutes then serve with the remaining syrup.
(from Donna Hay)
Have a great week everyone.