journal
chocolate lava cake
Last week I went to San Francisco to attend an event sponsored by Scharffen Berger, which I will try to post pics of later. At the end of the (very sweet) afternoon, we were given a bag of goodies, and this was one of the items in it:
I used them before in these cookies, which sucked, but not because of the chocolate.
Tired of pumpkin (for now), I thought it was time for a great, easy chocolate dessert. I've always wanted to make molten lava cakes and most recipes recommend using at least 70% chocolate. Since these were precut chunks, I decided to go with them for ease of convenience. From my readings, the percent cacao refers to the amount of total cacao content in the chocolate, which include everything in cocoa beans (chocolate liquor, cocoa butter, and cocoa powder). The remaining amount is made up of sugar, vanilla, milk, and other ingredients. So, with the chocolate pictured above, 62% of the content is cocoa bean-derived and the remaining 38% are a mix of other ingredients. The higher cacao perecentage in a chocolate results in more intense, strongly flavored product, and can be bitter if sweeteners are not added. Great for baking, not eating straight from the bag.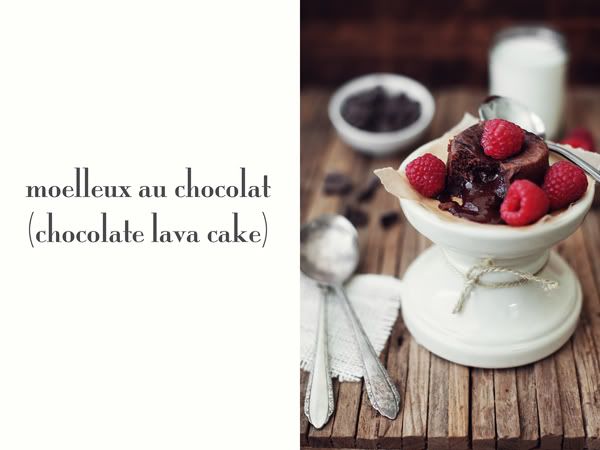 Turns out I had little reason to be concerned with the 62% as the the cakes came out lovely, just as I imagined them to be in both presentation and taste. A huge thumbs up for this particular Scharffen Berger chocolate.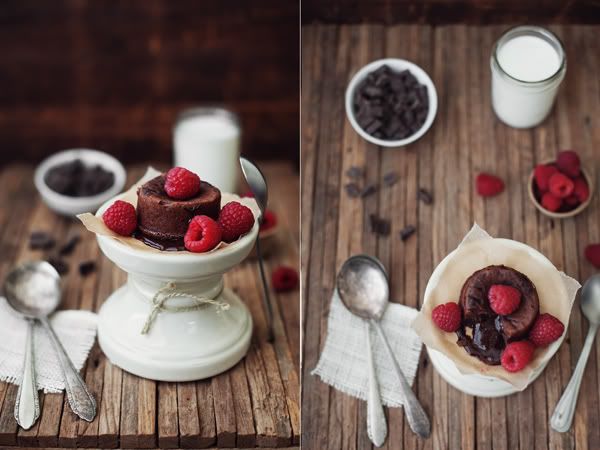 The cakes can be turned over onto a plate or eaten straight from the baking mold, and they're best eaten warm of course!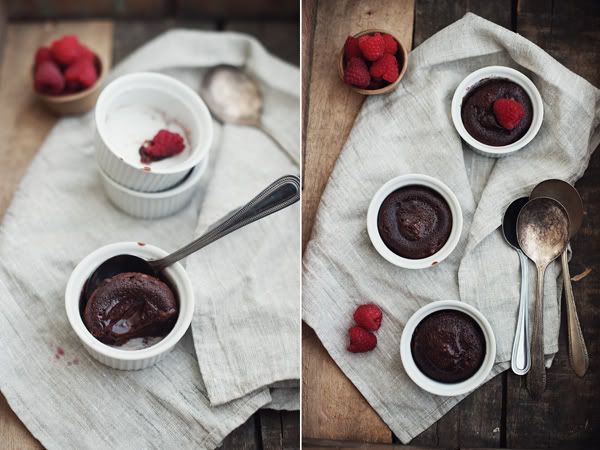 We loved the cakes so much that I made more the next day, changing it up to 72% dark chocolate; this time, I used Ghirardelli Twilight Delight Intense Dark Chocolate. I also added a raspberry to the center of one of the cakes.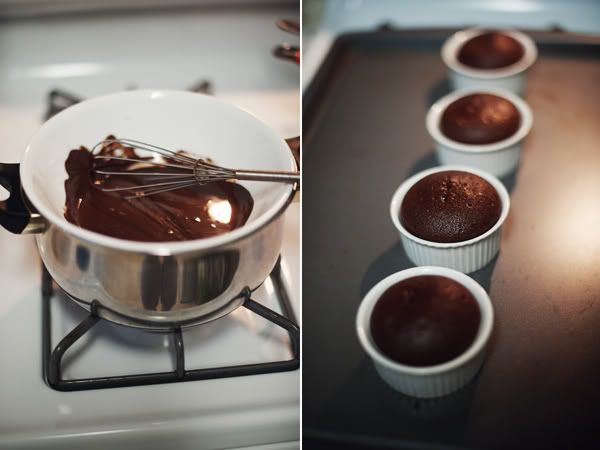 The batch did not turn out to have the melted, gooey centers as the ones from the day before. In fact they were completely cooked through in the center. Other than the different brand and % cacao, the method, oven temp, baking time, and ingredients were the same so I'm guessing (though not certain) it had something to do with the different cacao content.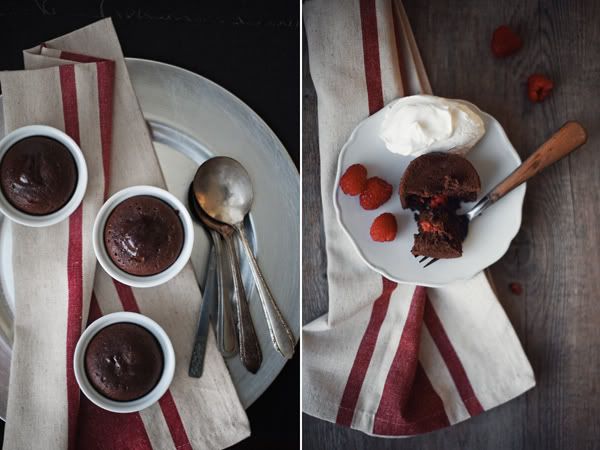 Lucky me, I still have a few samples of chocolate from Scharffen Berger to "experiment" further. If anyone is interested I can post the recipe (it's easy, I am just getting too lazy to type them out, much less have time to bake anything. Homeschooling two middle-schoolers and a preschooler can get pretty tiring at times. Don't know how the Pioneer Woman does it). I got this molten lava cake recipe from Jamie Magazine but a Google search will yield a ton of recipes.