journal
pumpkin muffins with cream cheese filling
Baking with pumpkin continues, with the mini pumpkins from my tree appearing in yet another shoot.
I tried a pumpkin cream cheese muffin from Starbucks recently and was inspired to make something similar.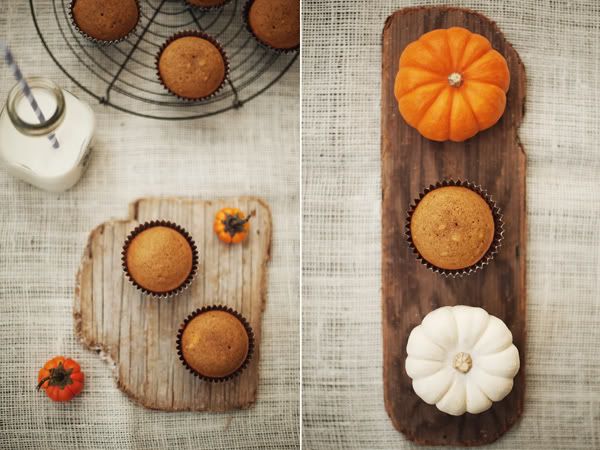 I accidentally left out the salt and baking powder (head way up in the clouds) but these turned out to be good and quite irresistible sans those two ingredients. The cream cheese was not as melty as I've seen on other people's sites but I guess a pop in the oven to warm the muffins would do the trick.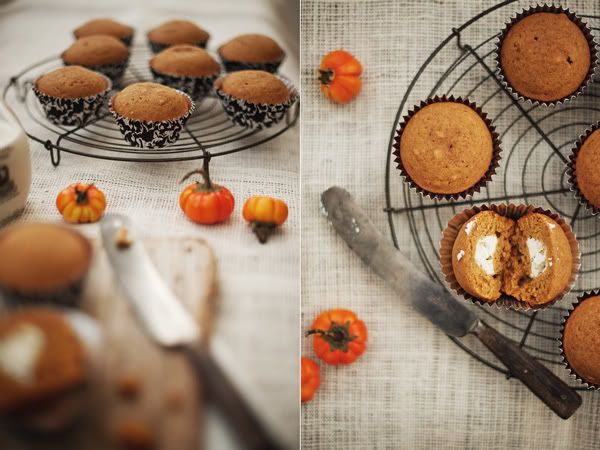 Thanks to my friend Michelle, a mixed media artist, for letting me borrow her wood pieces :)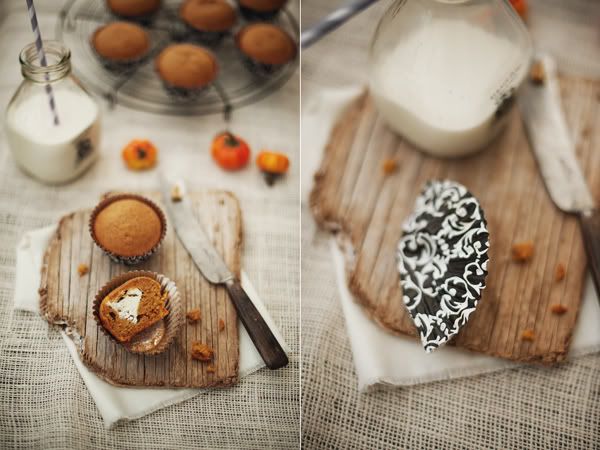 Pumpkin Muffins with Cream Cheese Filling
Adapted from a friend's recipe and Annie's Eats
Servings: 18 muffins
Ingredients
for the filling:
8 oz. cream cheese
1 cup confectioners' sugar
for the muffins:
2 eggs, beaten
1 cup sugar
1 cup canned pumpkin
¾ cup olive oil
¼ cup water
1-⅔ cup flour
1 tsp baking soda
¾ tsp salt
½ tsp baking powder
½ tsp ground cloves
½ tsp nutmeg
½ tsp cinnamon
½ tsp pumpkin pie spice
½ cup nuts, chopped (optional)

1. Prepare filling. Combine the cream cheese and confectioners' sugar in a bowl and mix well until blended and smooth. Transfer the mixture to a piece of plastic wrap and shape into a log about 1½ inches in diameter. Smooth the plastic wrap tightly around the log. Reinforce with tin foil. Place cream cheese log in freezer and chill until slightly firm, about 1½ to 2 hours.
2. Preheat oven to 350˚F.
3. Combine eggs, sugar, pumpkin, oil, and water in a medium-sized mixing bowl.
4. Stir together flour, baking soda, salt, baking powder, and spices in a separate bowl.
5. Add dry ingredients to wet, and stir to blend.
6. Prepare a non-stick or lightly oiled muffin tin tray (you may also line with cupcake cups). Place a small amount of batter in each well, enough to cover the bottom. Cut cream cheese log into 24 equal slices. Place a slice of cream cheese into each muffin well. (yes, you will have extra cream cheese mix :)
7. Divide the remaining batter among the muffin tins, placing enough to completely cover cream cheese, about 3/4 to top.
8. Bake 20 minutes or until toothpick inserted into the middle of a muffin comes out clean (it's ok if a bit of cream cheese clings to toothpick).
9. Allow muffins to sit in tray for 5 minutes before transferring to a wire rack to cool completely.