i've been seeing this classic french dessert (and its variations) all over the food blogosphere and had to give it a shot myself. it fulfilled my two requirements of a recipe, especially for a dessert... that it be relatively simple to make, and that it taste good (a given). the general consensus on the clafoutis is positive. anyhow, i haven't had an opportunity to cook with cherries yet.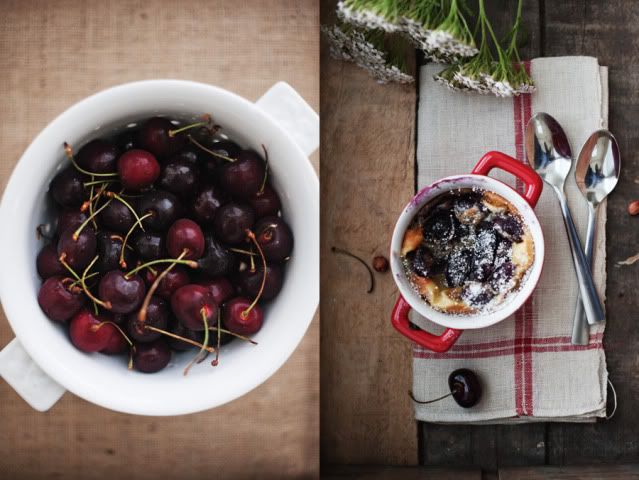 i got the recipe for cherry clafoutis from jamie magazine, a british publication, and the metric system is utilized in the measuring of ingredients. ha! i knew the digital scale i'd purchased years ago would come in handy again. since i have a thing for baking small dessert portions, i used one mini stoneware pot and as i didn't have a shallow pie pan, i put the remaining batter in a large, deep baking dish that resembles a huge ramekin. jamie says this recipe serves 4-6.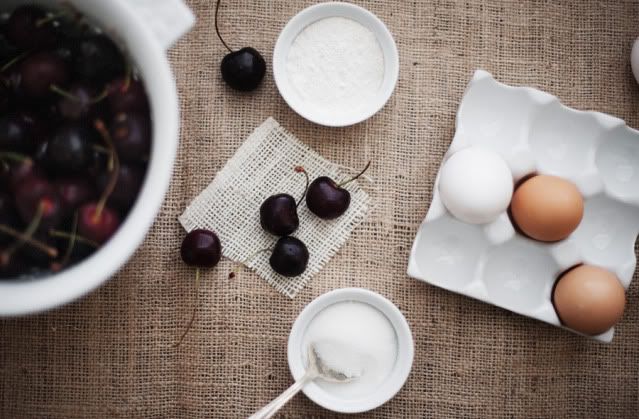 clafoutis can be made with any fruit, in which case the proper name for the dessert would be flaugnarde. whatever you choose for the filling, you can't go wrong. it's a cross between a cake and a custard, and if you don't remove the pits, the juices in the whole cherries are released upon heating, infusing the batter to make for a more intense, almond-tasting clafoutis (i chose to pit/stone).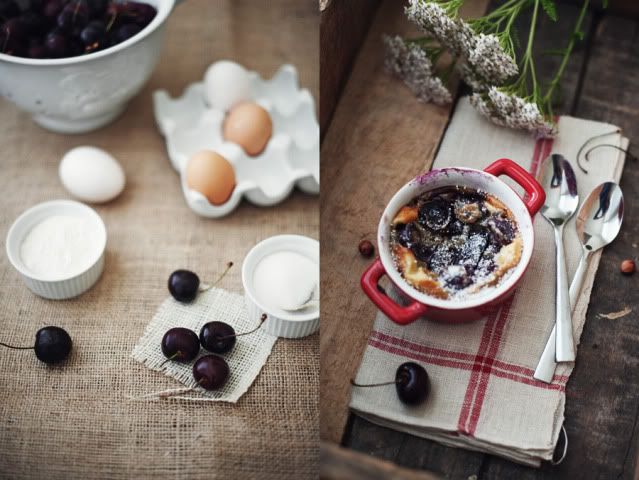 i might have gone overboard on the cherries in my clafoutis, but an excess of fruit is not necessarily a bad thing. just remember it will rise in the oven (as i learned the hard way), so don't overfill the dish.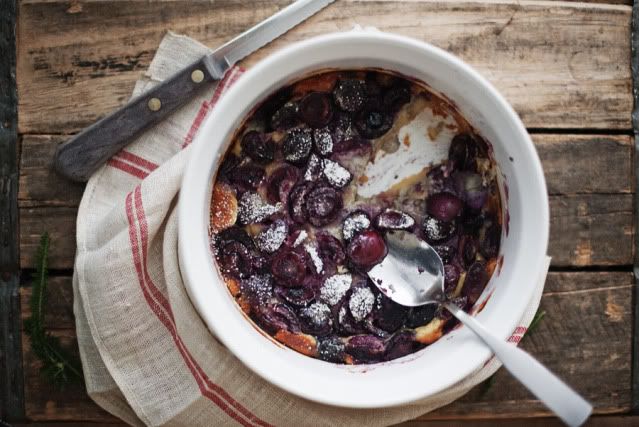 for more clafoutis awesomeness, check out the recipes on these lovely blogs:
chez us' gluten-free cherry clafoutis
tartelette's gluten-free cherry clafoutis