journal
minty watermelon salad
simple salad consisting of cut watermelon, strawberries, blueberries and blackberries. the recipe called for raspberries and grapes as well, which i didn't have on hand. so satisfying for a summer day.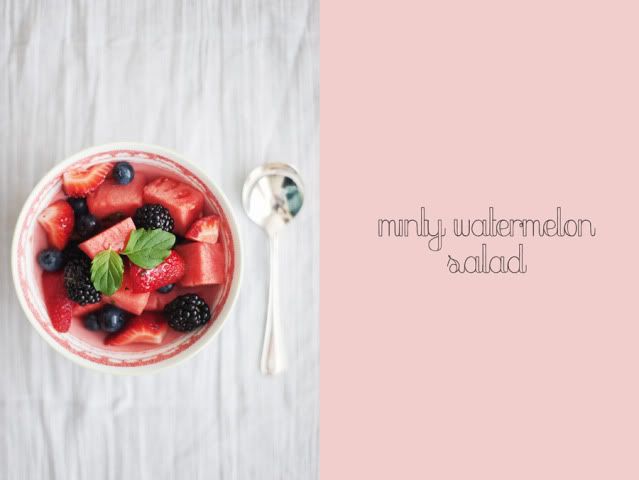 Minty Watermelon Salad
Minty syrup:
1/4 cup sugar
1/4 cup chopped fresh mint
1/2 tsp. ground ginger
Fruit salad:
1 medium watermelon, cut into 1-inch chunks
1 pt. raspberries
1 pt. blueberries
1 pt. strawberries, hulled and halved
2 cups halved seedless grapes
fresh mint leaves
1. In a small saucepan combine sugar, 1/4 cup water, mint and ginger. Bring to boiling; reduce heat and simmer 5 minutes to thicken slightly. Set aside to cool.
2. Place watermelon, raspberries, blueberries, strawberries, and grapes in a large bowl. Add syrup mixture and toss to coat.
3. Top with mint leaves and serve immediately.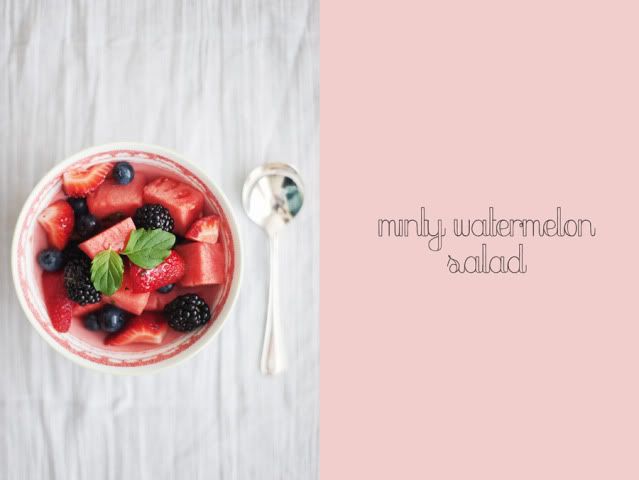 this is one of the bowls i scored at the Obon Festival. kinda made for snacking on watermelon pieces, huh?